Ao Nang is a busy little town located in Krabi's province. Known for its beaches, Ao Nang is a fun destination to visit while in the Southern part of Thailand.
Krabi Town is also a good base to explore the area, although, there's less going on in this town.
If you're wondering what to do in Ao Nang and/or Krabi, here are the top things to do including day trips from Ao Nang, Krabi. I was in the area for 5 days and I picked Ao Nang Beach as a base as there's more going on around if I compare it to Krabi Town.
You should know that in Ao Nang town, there's not so much to do either. It's a good base for day trips as most fun activities around aren't located directly in Ao Nang.
Let's take a look at the best things to do in and around Ao Nang and/or Krabi.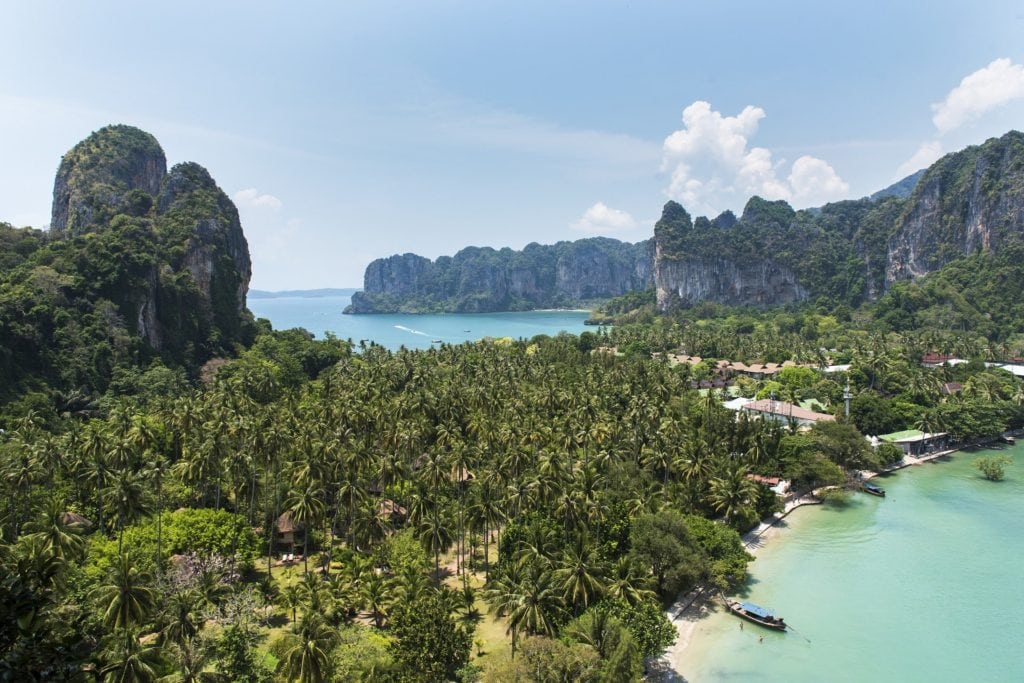 Snorkeling & Diving in Ao Nang, Krabi
When it comes to snorkeling and diving in Krabi, there are plenty of good options to consider. If you have your scuba-diving certification, you might want to consider visiting some of these cool snorkeling spots to dive instead. There are many scuba-diving centres around Krabi and Ao Nang to plan your diving trips while in the area.
4 Islands Tours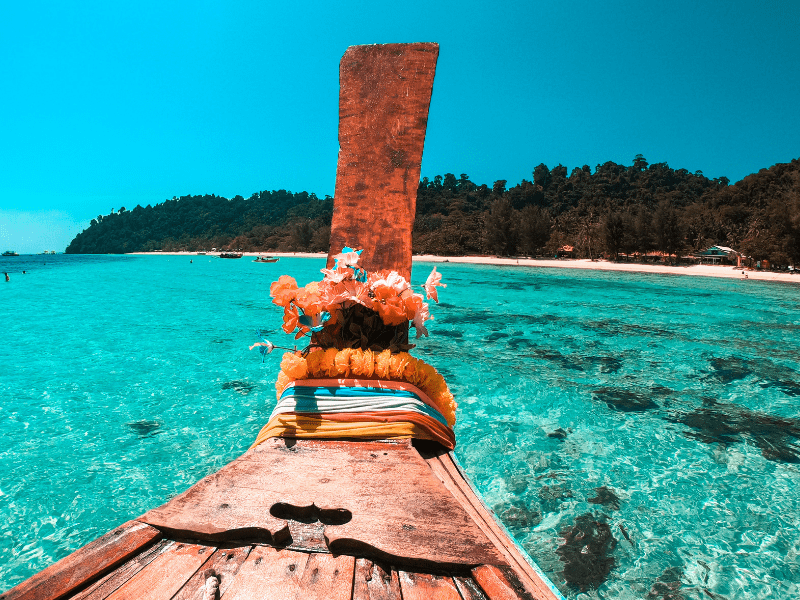 While in Krabi, you're going to see the famous 4 Islands Day Tour everywhere. It's an excellent way to discover the best of Krabi. The most popular island is called Koh Gai (Chicken Island). You will also see Koh Tub and Koh Mor as well as Phra Nang Cave Beach. You can either go via speedboat or via longtail boat. You'll have time to snorkel too, so that's a great option!
Similan Islands Tour
You can visit the famous Similan Islands from Krabi (although, it would be closer to Phuket if you're heading that way eventually). The Similan Islands are quite popular for divers but also for snorkeling. You can see Stonehenge, explore Koh Miang, Honeymoon Bay as well as Koh Payu. If you're lucky enough, you might even get a chance to see dolphins. The rates are a bit higher for this tour as Similan Islands are quite far from Krabi.
---
Planning your upcoming adventures? Travel by bus! (It's cheap!)
---
Koh Hong Day Trip
Koh Hong Island is peaceful, secluded and perfect for those looking for something quieter. You can snorkel in a secluded lagoon and admire the marine life. Koh Hong is a National Marine Park which means you're going to love to snorkel in this area. You can either go via speedboat or longtail boat and there's also an opportunity for kayaking while you're there.
Koh Rok and Koh Haa Day Trip
Imagine snorkeling in turquoise waters – while being away from the busy crowds. Koh Rok and Koh Haa are ideal destinations for those who want to snorkel somewhere different. You will be able to admire incredible coral reefs.
---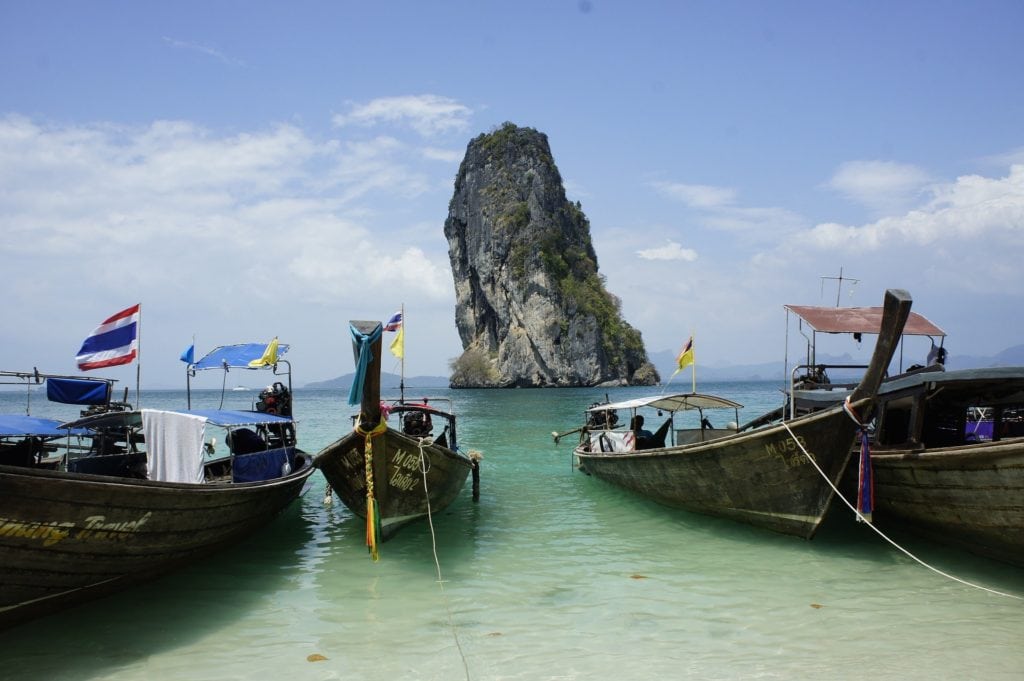 James Bond Island Day Trip
You might have seen it on a big screen, but imagine if you could visit James Bond Island. Exploring the set of "The Man with the Golden Gun" could be quite epic! This tour is done via speedboat and longtail boat. You basically get there via speedboat and then you explore in the longtail boat. You're also going to visit Phang-Nga Bay National Park.
Mangrove Kayak Trip
If you like kayak experiences, you're going to like this one. Ao Thalane Bay is one of the most beautiful bays in Krabi. You can explore canyons and groves in a peaceful environment. You can either opt for a full day or a half day. There are also options for sunset time.
Zipline Adventure Park
---
Grab your Airbnb discount!
Did you know? You could get an extra Airbnb discount using this
link
! If you already have an account, you can create a new one. Thank me later!
---
Good news – there's a Fun Park Zipline Adventure in Krabi! If you're looking for something fun and want to soak in the great views from the sea and the rainforest, this could be a great option. This one is located between Krabi Town and Ao Nang beach.
Tree Top Adventure
Tree Top Adventure Park is another fun park located in Krabi. It's a great way to have a fun adventurous day surrounded by the limestone cliffs as well as the rainforest.
ATV Adventure
If you'd like to explore Krabi area with a fun twist, why not consider an ATV adventure. It's a fun way to explore a new destination away from the crowds and surrounded by nature as well as tranquility.
Sunset Cruise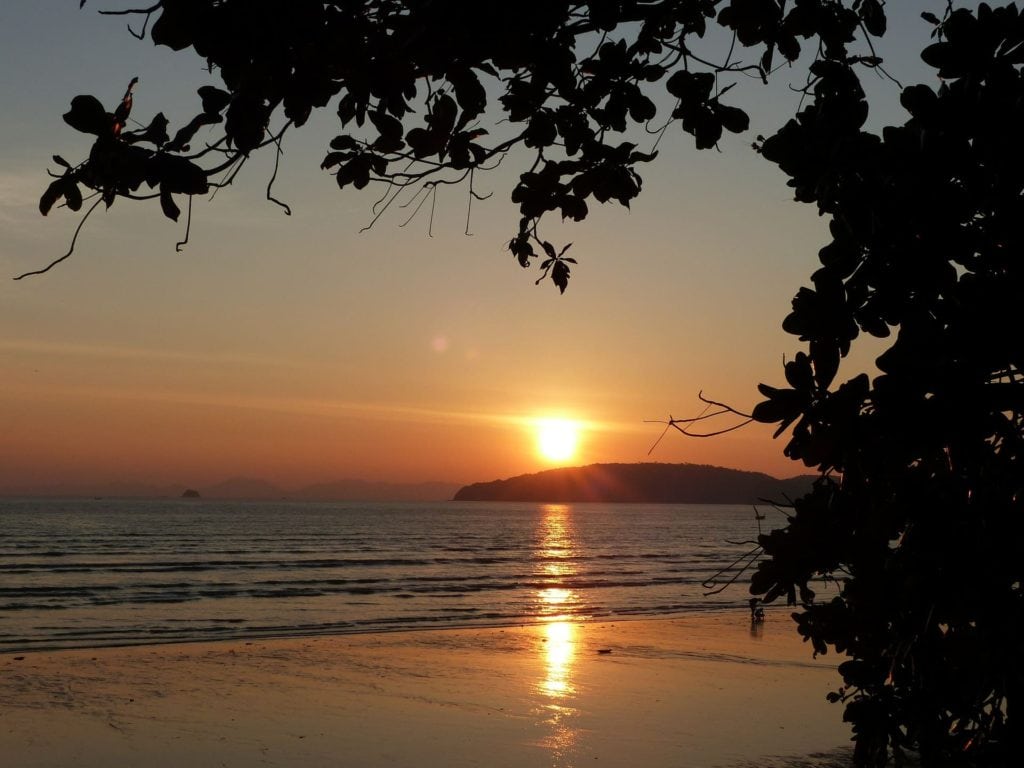 Want to watch the sunset from a boat? What if you could relax on a luxury yacht? You can also snorkel while admiring the views as you go near the iconic Chicken Island and Railay Beach.
Rock Climbing in Railay Beach
If you'd like to experience rock climbing while in Thailand, you should know that it's possible to learn the basics in Railay Beach. You can pick a full or a half day. It's a fun way to challenge yourself while admiring the views.
Day Trip to Railay Beach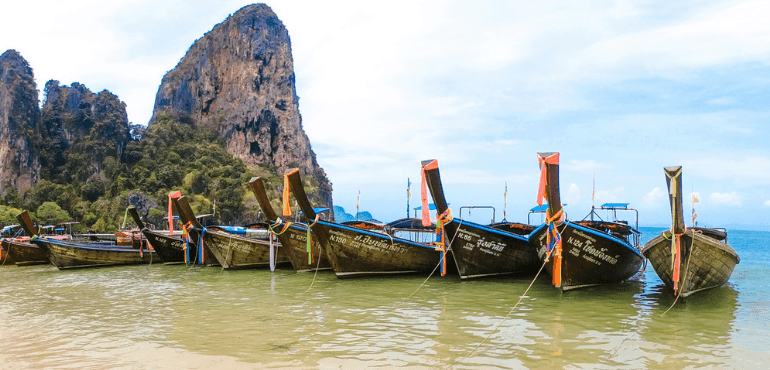 If you're planning a beach bumming session in the famous Railay Beach, you can check out the best things to do in Railay Beach here. Railay Beach is a great destination for a day trip for those who want to climb, kayak or do some stand-up paddleboarding while enjoying the great views.
White Water River Rafting Experience
Another great way to have fun while in Krabi is to go on a white water river rafting experience. Enjoy the views from the ziplines but also from the river. You can make your day a total adventure with their different packages.
---
Where Should You Stay While You're in the Area?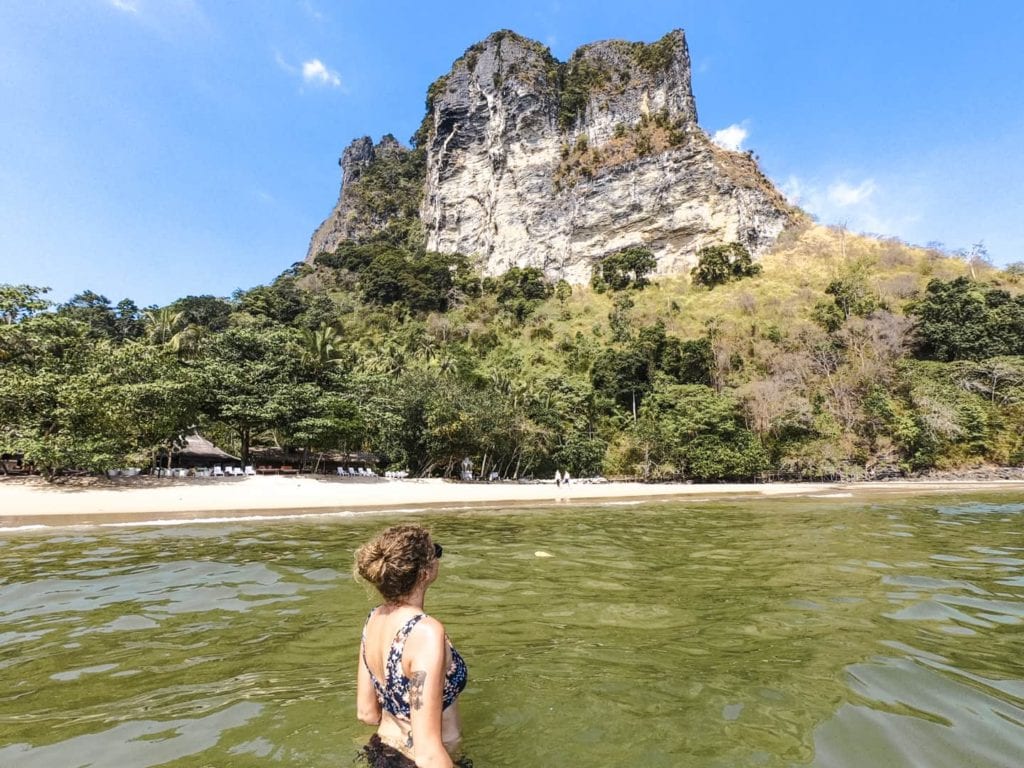 There are three main areas where people decide to stay when they fly to Krabi. You can either stay in Krabi Town, Ao Nang or directly on Railay Beach.
I'd recommend Ao Nang as there's not much going on in Krabi Town and Railay Beach is a bit more expensive as well as quite touristy.
Ao Nang was a great base even though it was quite touristy. The area is beautiful, you can find plenty of restaurants and cafés around and the beaches are nice. If you're thinking about planning a few day trips, some of them are easier to organize from Krabi Town. Although, you can also plan them from Ao Nang too. You might have to get to Krabi first though.
Where to Stay in Ao Nang
♥ Our Pick: Golden Palm Resort – We picked that one as it was pretty affordable and it looked new. The location was not central, so we had to rent a scooter. The staff was super friendly.
Hostel: Tan Hostel / Surf Hostel / Wake Up
Mid-Range: Golden Palm Resort / Cocco House / Whalecome Aonang Resort
Luxury: Lux Family Villas / Ban Sainai Resort / The Nine Thipthara Klongson Resort
Where to Stay in Krabi Town
Hostel: Nomad Hostel / Pak-Up Hostel / Chanchalay Hip Hostel
Mid-Range: K.L. Boutique Hotel / The 9th House / Sita Krabi Hotel
Luxury (still pretty affordable): Krabi Front Bay / Islanda Hideaway / Maritime Park & Spa Resort
Where to Stay in Railay Beach
Hostel: Blanco Hideout
Mid-Range: Avatar Railay / Sunrise Tropical Resort / Railay Princess Resort & Spa
Luxury: Rayavadee / Bhu Nga Thani Resort & Spa / Railay Village Resort

---
Thailand Travel Tips
Traveling to Thailand soon? Here a few things to keep in mind to have a fun trip to Thailand.
Wifi & SIM card: Yes, you can stay connected while in Thailand. You can even pick up a SIM card or a Data plan directly at the airport.
Transportation: Getting around Thailand doesn't have to be super complicated. You can read my full transportation guide in Thailand here or book your transfers directly on 12GO.
Accommodation: Book your stay in Thailand with Booking.com, Agoda or Hostelworld.
What to pack for your Thailand trip? Check out this Southeast Asia packing list.
You may also like:
Get your monthly (and funny) dose of adventures! Subscribe now! #YesPlease
Are you enjoying this website? If your answer is yes, you should use my affiliate links to book your accommodation for your next adventure: Booking.com, Agoda and Hostelworld!

Disclaimer: This post may include affiliate links. Happy travels!