Choosing the best waterproof travel backpack doesn't have to be too complicated. It is important to protect your valuables when you go overseas. Imagine if all your valuables (and passport) would get wet because of the weather. That'd be awful and it would make your life quite complicated.
After dealing with many rainy seasons abroad, I understood the importance of having a waterproof backpack (or a water resistant one). We all have been stuck in the rain under a roof thinking about the sun dance moves.
Forget about this pity dance and keep your valuables safe with one of these fantastic waterproof travel backpacks.
If you are wondering what is the best waterproof backpack out there, you should know that depending on your needs, the quick answer could vary. Here are the ones I would go for including the reasons why they seem fantastic to me!
Waterproof Travel Backpack: BackSåk by Såk Gear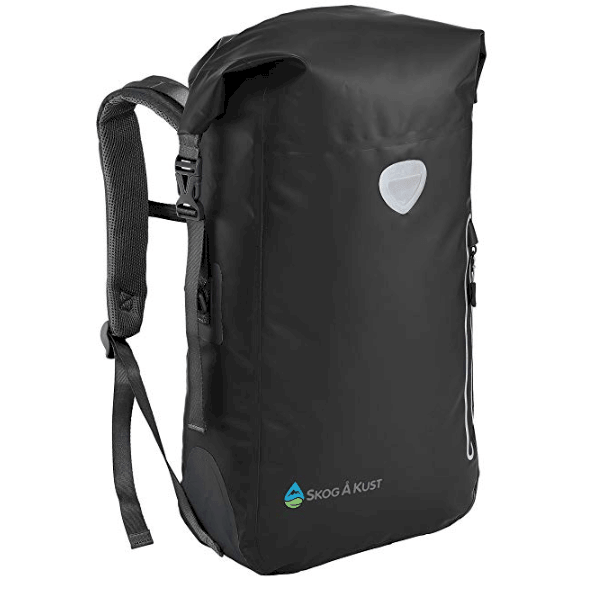 The Backsåk backpack is constructed from 500D PVC material with welded seams to keep your gear dry and safe from rain, snow or even dirt. The backpack has a foam padded back support for more comfortable wearing and cushioned adjustable chest straps, which helps stability and adds more comfort.
To keep your gear well organized, the waterproof backpack features two separate zippered pockets. Interior pocket for valuables or large items and exterior pocket, which is splash proof and can be used for storing quick access items. It also includes D-rings on the sides that can be used for clipping your water bottle or other gear. It's souped up and ready for an adventure.
✅ All-weather protection
✅ Padded back & straps
✅ 25 litres or 35 litres available
Eco-friendly Cloudbreak Waterproof Backpack by FE Active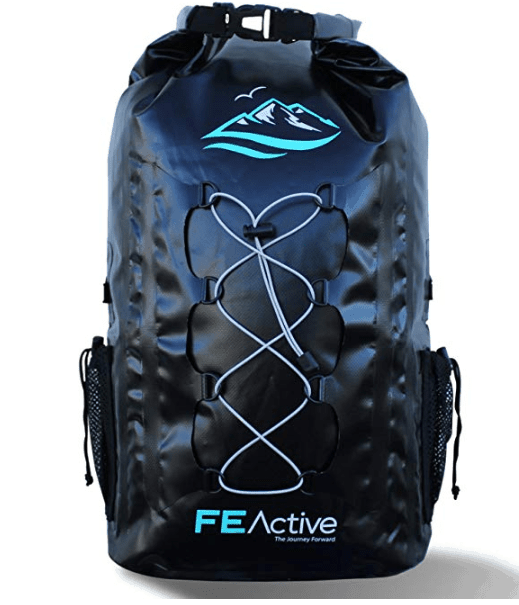 FE Active made this waterproof backpack from tested and certified environmentally safe PVC construction, which makes it a great choice for environmentally conscious adventurers!
30L size and its design make it best waterproof daypack for exploring the city but also active hiking or other sports. Breathable straps and padded back are a great feature to ease the pressure and increase comfort when having a bag on for several hours.
A corded exterior gives additional storage for a tripod or yoga mat, which can be useful when traveling and it comes in shiny black/blue color, matching everyone's style.
✅ All-weather protection
✅ Eco-friendly
✅ 30 litres
Heavy Duty Waterproof Backpack by Chaos Ready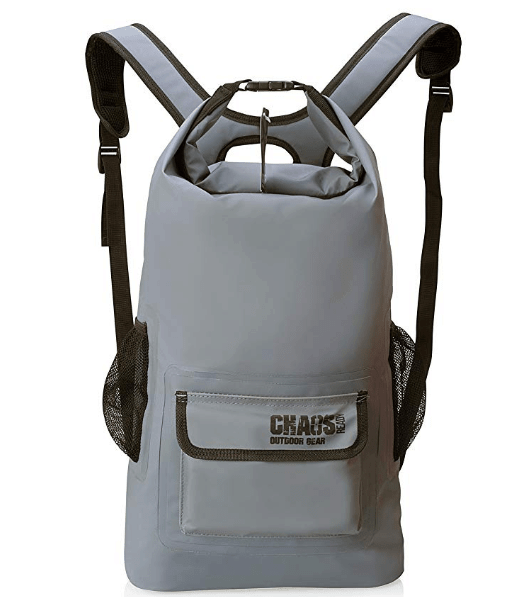 This 22L small waterproof backpack is a very affordable choice for everyone. Perfect for a day bag or quick trip. It is 100% waterproof even though the front pocket is rather water resistant, and the interior has a multiple compartment system, allowing for easy packing.
Another feature is padded shoulder straps and floating design, which helps bag float on the water surface if accidentally dropped.
This bag is ready for everything, and it's one of the best waterproof backpacks on the market!
✅ All-weather protection
✅ Lifetime warranty
✅ 22 litres
'Waterman' Waterproof Backpack by Cougar Outdoor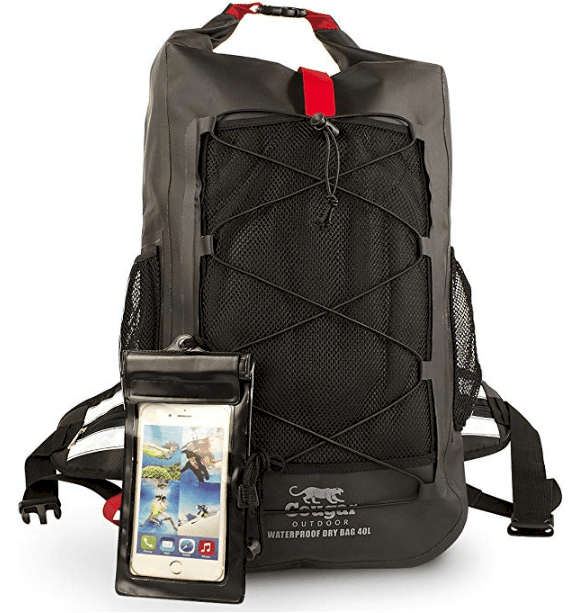 Companies call it "survivor", for its ability to survive in any weather conditions and they sound very confident about it! This multi-purpose bag with no-leak dry-lock technology ensures your gear will stay dry and safe.
The impressively large 40L waterproof rucksack has a lot of storage space and several exterior side pockets which can save time when looking for things in the bag.
A nice additional detail is a waterproof phone case that can be also used for ID's or cards.
✅ All-weather protection
✅ Comes with a waterproof phone case
✅ 40 litres
Heavy Duty Roll-Top Waterproof Backpack by Earth Peak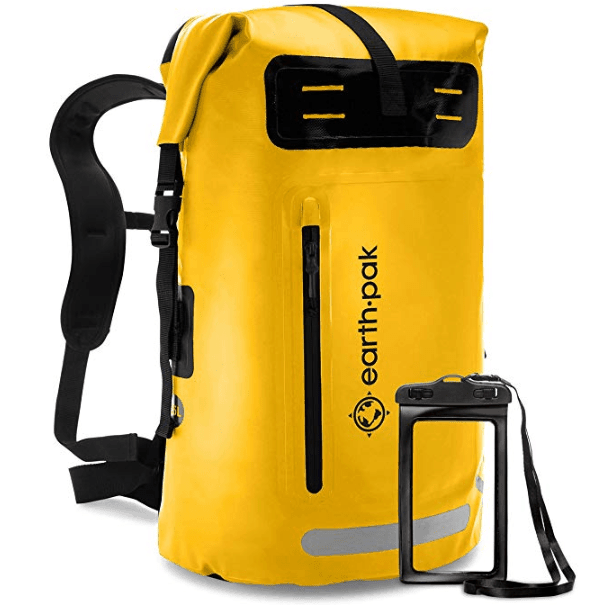 Whether you go away for a week or two, Earth Peak got you covered! Backpacks come in two sizes – 35L and 55L, with extra compartments to pack everything needed, and it is suitable for all types of adventurers.
Two of the key features are an ergonomic padded back support which provides higher comfort and waist belt which gives additional support to distribute the weight to the core of the body.
Complete waterproof coverage and a waterproof phone case which comes with it makes it the best dry bag for everyone! You can choose from 5 colors and every bag has a reflective strip for better visibility through the night.
✅ All-weather protection
✅ Comes with a waterproof phone case
✅ 35 litres or 55 litres available
Waterproof Dry Bag by Piscifun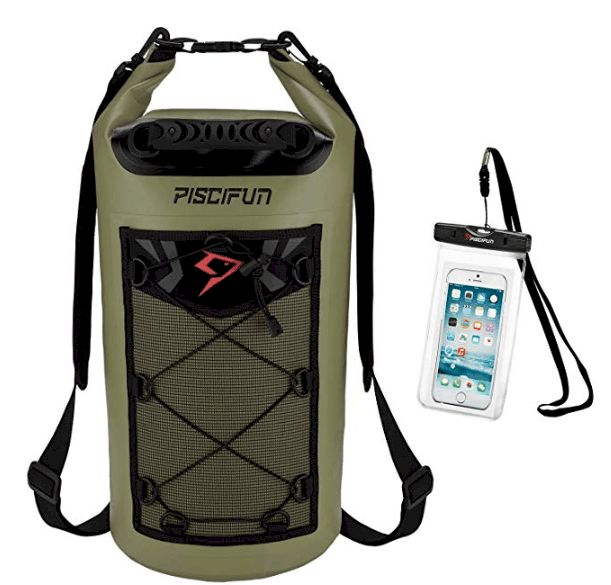 With a selection of multiple fun colors and a variety of bag sizes (10L – 40L), Piscifun's bag is one of the best waterproof bags on the market today. Reinforced vinyl at stress points makes it durable and completely waterproof in any weather conditions and outer mesh pocket is ideal for additional storage.
One of the best features is the padded straps which can be adjusted, making it 3 in 1 bag which can be carried as a backpack, shoulder bag or just a carry-on bag. A win, win, win.
✅ All-weather protection
✅ Comes with a waterproof phone case
✅ 10, 20, 30, 40 litres available
Waterproof Backpack by Sinotop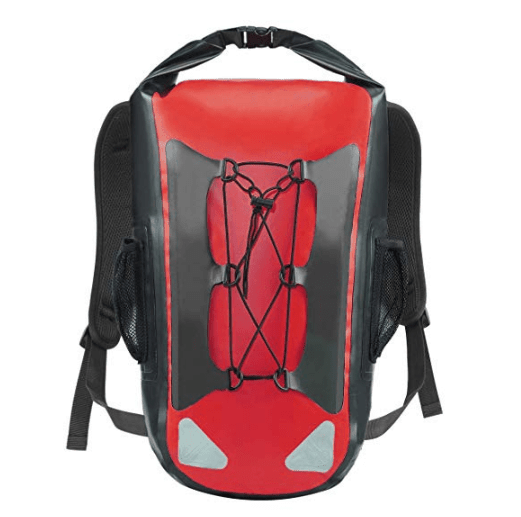 This roll-top waterproof backpack comes in a 30L size and is made from eco-friendly PVC.
The padded back makes it comfortable to wear for longer periods of time, the material is breathable and adjustable waist straps are helping to stabilize the backpack. Two side pockets for the water bottle and reflective strips are just small details, which makes this backpack ready to take you on any adventure.
✅ All-weather protection
✅ Lifetime warranty
✅ 30 litres
Lightweight Dry Backpack by Yifei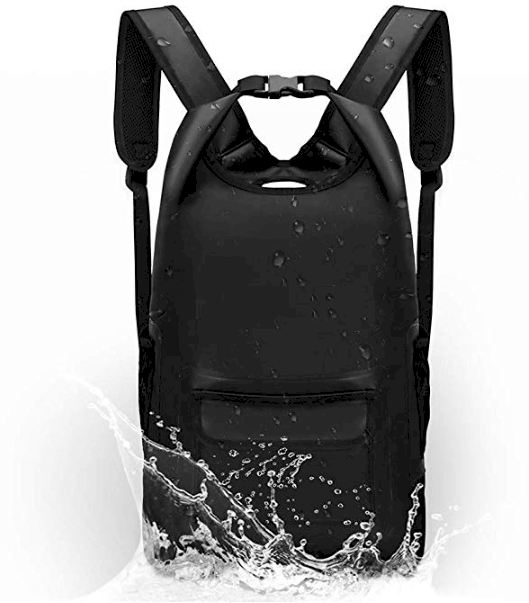 This 22L dry bag is made of high-quality scratch proof wear resistant, ensuring your gear stays dry and safe in any conditions!
The honeycomb design carrying system helps to protect your back and makes it comfortable to wear. The bag comes in three basic colors and simple design will attract both male and female adventurers.
✅ All-weather protection
✅ Get your money back in 30 days
✅ 22 litres
Patented Waterproof Backpack by Acrodo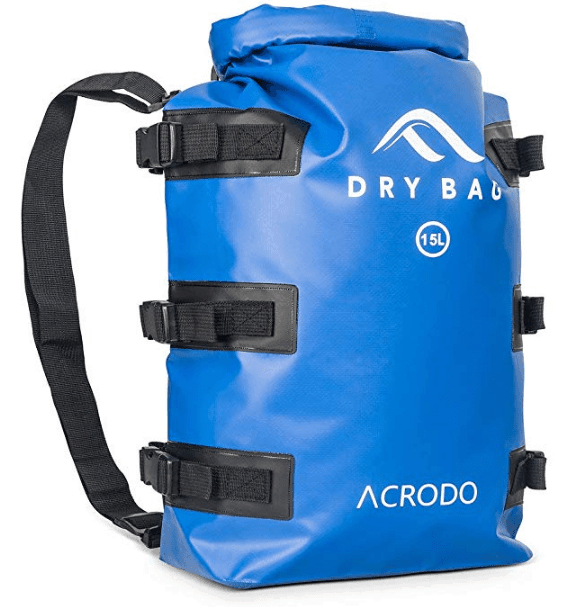 Acrodo's Dry Bag will make you want to go out and explore! 15L size can fit everything needed for the trip and thick material with tight seams will keep it all safe from water or dirt.
A very interesting aspect of this bag is a patented design which makes it easy to clip two or more bags together what is convenient for large groups traveling together!
It comes in a few different colors and some of them are see-through, which is great for people who like to differentiate themselves from the crowd.
✅ All-weather protection
✅ Can float in water
✅ 15 litres
You may also like:
Get your monthly (and funny) dose of adventures! Subscribe now! #YesPlease
Are you enjoying this website? If your answer is yes, you should use my affiliate links to book your accommodation for your next adventure: Booking.com, Agoda and Hostelworld!

Disclaimer: This post may include affiliate links. Photo credits go to Amazon. Happy travels!