If you've seen these famous shots of Nusa Penida and you're wondering "how can I get there", this post is for you. Getting to Nusa Penida isn't complicated – in fact, it's quite easy. The important thing to remember here is the cost – it's easy to get ripped off. If you're on a budget, you might not want to spend too much to get to Nusa Penida and that's totally understandable.
Here's a quick guide on how to get to Nusa Penida from Bali – drama free, rip-off free!
Getting to Nusa Penida by Boat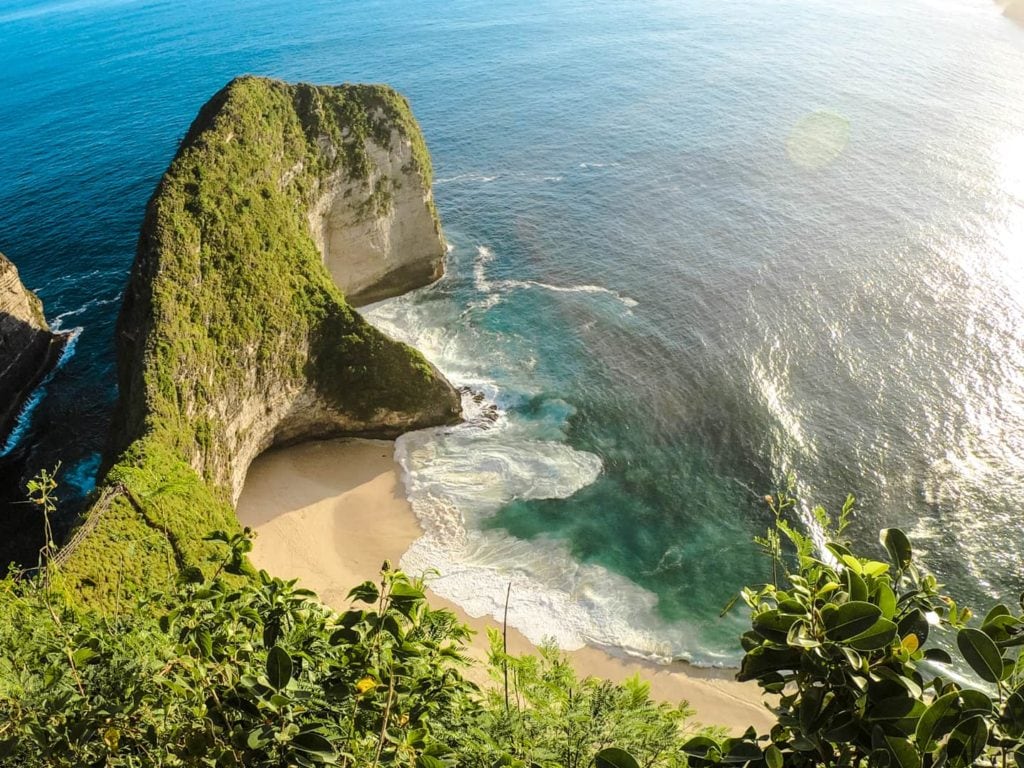 First, you should know that there are two ways to get to Nusa Penida:
In terms of cost, the ferry would be cheaper. Although, it's not super convenient. To make your life easy, I'll share with you details about the fast boat as well as the ferry.
Getting to Nusa Penida by Speedboat
The speedboat is obviously more expensive but is also a lot faster than the ferry. The journey between Bali and Nusa Penida takes between 30-45 minutes depending on the weather, the conditions and the piers chosen.
There are two main piers where you can take the boat from Bali:
You can find boats leaving pretty much every hour.
There are three main piers in Nusa Penida, so you might want to check the location of your accommodation before making a booking decision.
Banjar Nyuh

Sampalan

Buyuk
Booking your speedboat from Bali to Nusa Penida:
There are three ways to book your speedboat from Bali to Nusa Penida. You could either use an agent, book it online or book it at the pier. Let's take a look at the options and see which is the most budget-friendly. When I went to Nusa Penida I tried two different fast boat companies – my favorite was El Rey Junior Fast Boat.
Booking your boat online:
After speaking with friends and making my own research online and within Facebook Groups, I realized that it would be cheaper and also drama free by booking my tickets online. I used the website PenidaGo to find my tickets. Another option would be via 12GO. You need to keep in mind that booking online tickets require you to book in advance. Last minute tickets won't be available.
You can expect to pay between IDR 150 000 to IDR 200 000 for a one-way ticket and about IDR 300 000 for a round-trip depending on piers chosen as well as fast boat companies.
This option is great if you're planning on getting to the pier by yourself (by booking a taxi or by scooter).
Booking your boat via an agent:
---
Did you know? You could get an extra Airbnb discount using this link! If you already have an account, you can create a new one. Thank me later!
---
There are many agents around Bali that can organize everything for you. You can expect to pay between IDR 350 000 – 600 000 for a round-trip depending on your current location and your negotiating skills. This option normally includes a pick-up from your location to the pier as well as a pick-up in Nusa Penida (the same applies for your way back too). This is a great option if you don't want to figure out your own way to the pier.
Booking your boat at the pier:
If you are more of a last-minute kind of person, your best bet will be to book a boat at the pier which means you'll have to negotiate a lot if you want to find a decent price. Most people will send you the ticket for IDR 300 000 for a one-way ticket – which will be around IDR 600 000 for a round-trip. If you're patient and excellent at negotiating, you could be luckier.
Getting to Sanur or Padang Bai:
To get to the pier, you could organize a transfer in advance, you could order a Go-Jek or Grab car, or you could simply drive there by yourself.
If you drive there by yourself, you can find parking pretty much all around the pier. We parked our scooters directly at the office from our fast boat company.
Boarding process:
After getting to the office, we got our tickets. They told us to check-in at the pier too where we can add tags to our luggage. A bit before the boarding, the staff members came to collect our luggage (which was locked, of course – you should always travel with a padlock). Then, we boarded and it was pretty smooth.
Arriving to Nusa Penida: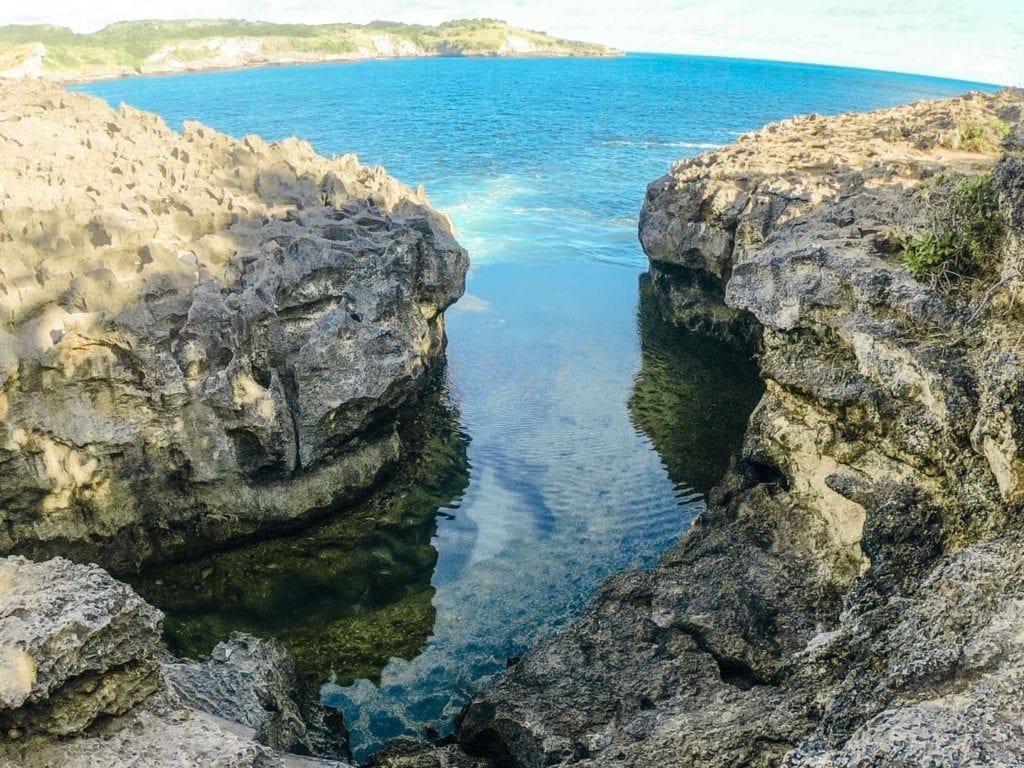 As soon as we reached the pier in Nusa Penida, it was quite hectic with drivers. We already organized a free pick-up with our accommodation, so again, it went pretty smoothly.
Getting to Nusa Penida by Public Ferry
There is a public ferry that departs from Padang Bai. It's the most budget-friendly option but it will take about two hours to reach your destination. You can expect to pay around IDR 40,000 for a one-way ticket. Although, you should know that there isn't any fixed schedule – when they have enough people, the ferry leaves.
Where to Stay in Nusa Penida
You can find different types of accommodation for different budgets in Nusa Penida, here are the ones I'd recommend.
Hostels: Nuansa Penida Hostel / Dragonfly / Acala Hostel
Mid-Range: Govardhan Bungalow / Swan Beach Inn / Double-G Guest House
Luxury: The Mesare Resort / Semabu Hills Hotel / Ocean Terrace Suite and Spa Luxury
Cool Airbnbs: If you haven't signed up on Airbnb yet – get a big discount on your first booking using this link!
Batan Sabo Cottage / The Bridge Huts / Surya Hills Ocean View
What to Pack for Your Trip to Nusa Penida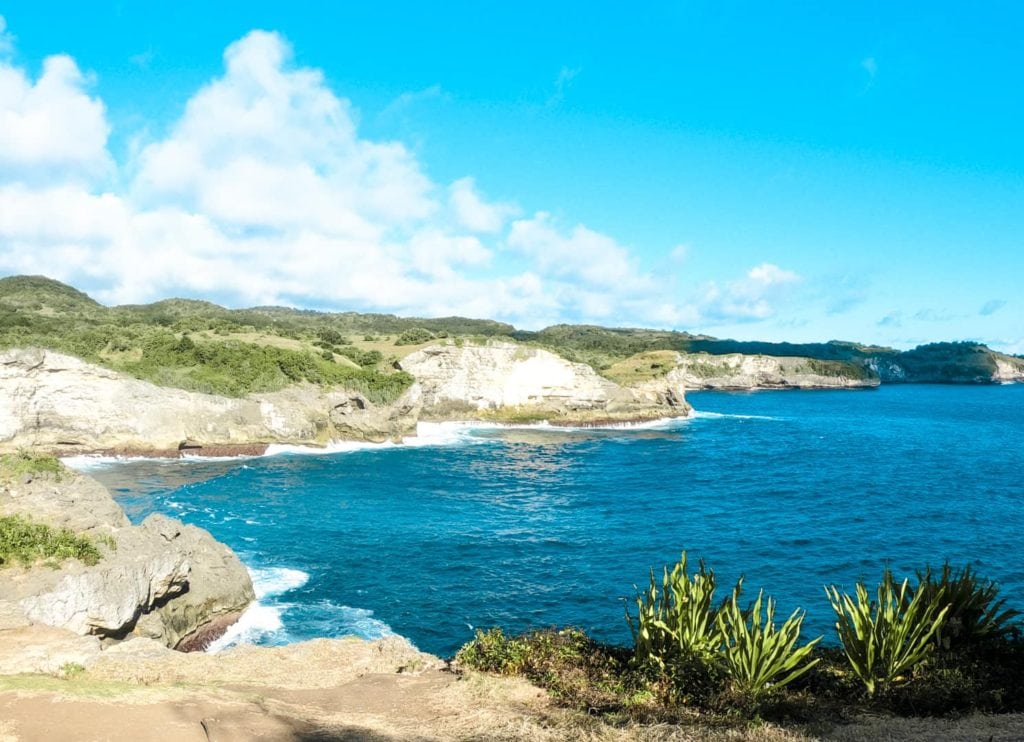 Everything related to the strong sunshine: Sunscreen, aloe vera, swimsuit, sunglasses, quick-dry towel, flip-flops, comfortable walking shoes.
Traveling around Bali? Read more about Bali here. You can also read more about surfing in Bali, backpacking in Bali as well as what it's like to be living in Bali.
Have you been to Nusa Penida lately?
Any tips to share?
You may also like:
Get your monthly (and funny) dose of adventures! Subscribe now! #YesPlease
Are you enjoying this website? If your answer is yes, you should use my affiliate links to book your accommodation for your next adventure: Booking.com, Agoda and Hostelworld!

Disclaimer: This post may include affiliate links. Happy travels!