Thinking of heading to Nusa Penida while in Bali? I totally get it – Nusa Penida is absolutely breathtaking and is a must for your Bali itinerary. If you're wondering how long you should stay in Nusa Penida and more importantly, what to do while you're there – this post should be answering your questions.
You can read more on how to get to Nusa Penida here or you can quickly check the options on 12GO. Note that if you're planning on booking your boat tickets online – you should book them a few days in advance.
How Many Days Should You Spend in Nusa Penida, Bali?
Honestly, if you're thinking about going in two days, it's going to be a tight schedule. We were there for 3 days, 2 nights but when you include the arrival and departure – it feels a bit short.
Real Life Example
Day 1: We got to Nusa Penida around 1 PM totally exhausted from the traveling. After all, we drove all the way from Canggu that morning and then, we had the speedboat ride. When we got to Nusa Penida we were pretty hungry and we had to sort out a scooter which wasted quite a bit of time. We still managed to explore on the first day – while taking a look at the diving centres.
Day 2: We went diving on the second day – which means that we got back around 2-3 PM. Obviously, after diving, we were both feeling hungry and tired. We did relax and took a nap in the afternoon. Then, we were planning on checking out the sunset – we actually missed it, ha.
Day 3: Our time in Nusa Penida was almost over. As we both are digital nomads, we also had to catch up on work a little. And there we were, already back in Bali, ha.
What does this mean anyway?
In our case, 3 days weren't enough. I would have easily stayed 2-3 more days for a longer trip in Nusa Penida. Here are things to keep in mind to help you make a clear decision.
Are you planning on diving while in Nusa Penida? If so – your trip should be longer if you want to dive AND explore the island. The island is surprisingly huge.

Are you thinking of visiting Nusa Lembongan and Nusa Ceningan while you're in the area? If so, you should definitely stay longer.

Are you on a tight schedule? If so, you could also consider booking a tour that would bring you everywhere without any dramas.
Fun Things to Do in Nusa Penida
Diving in Nusa Penida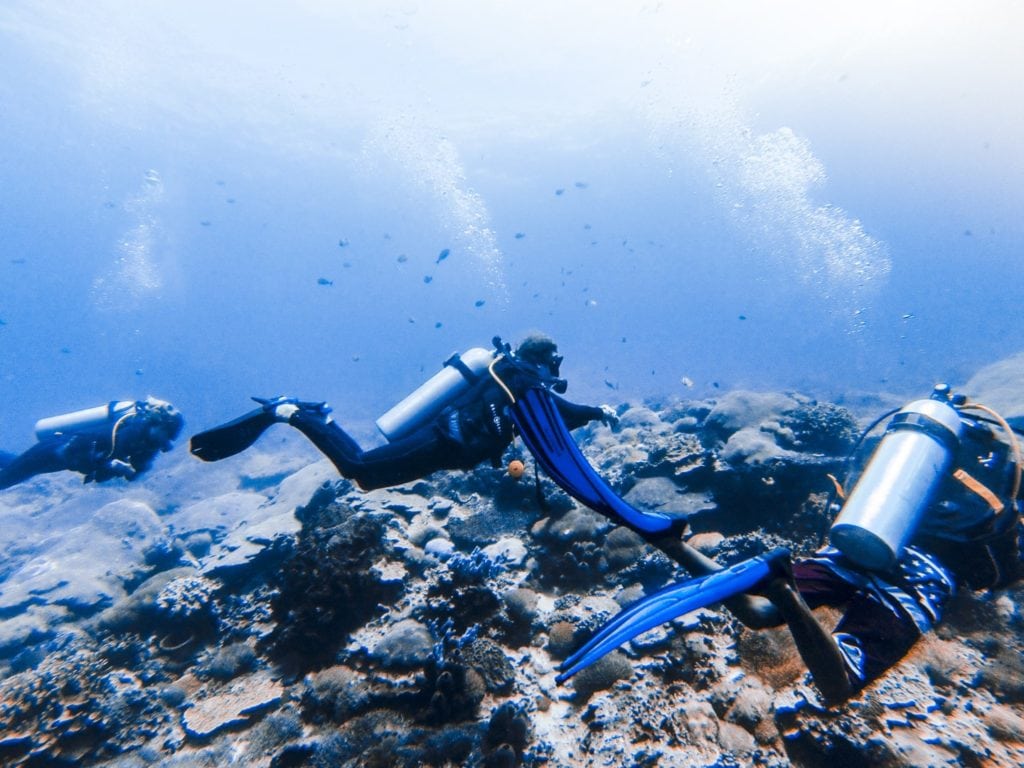 One of the main reasons why people decide to visit Nusa Penida and its surroundings is for diving options. It was also one of the main things we wanted to do during our weekend in Nusa Penida.
Most scuba divers want to visit Nusa Penida for two main reasons: manta rays and mola-mola.
It wasn't the mola-mola season when we went to Nusa Penida, but still – we did swim with the manta rays.
If you're planning on diving in Nusa Penida – you should know that there are diving centres all around the island which makes it easy and ideal for travelers. You could also do your PADI open water course there.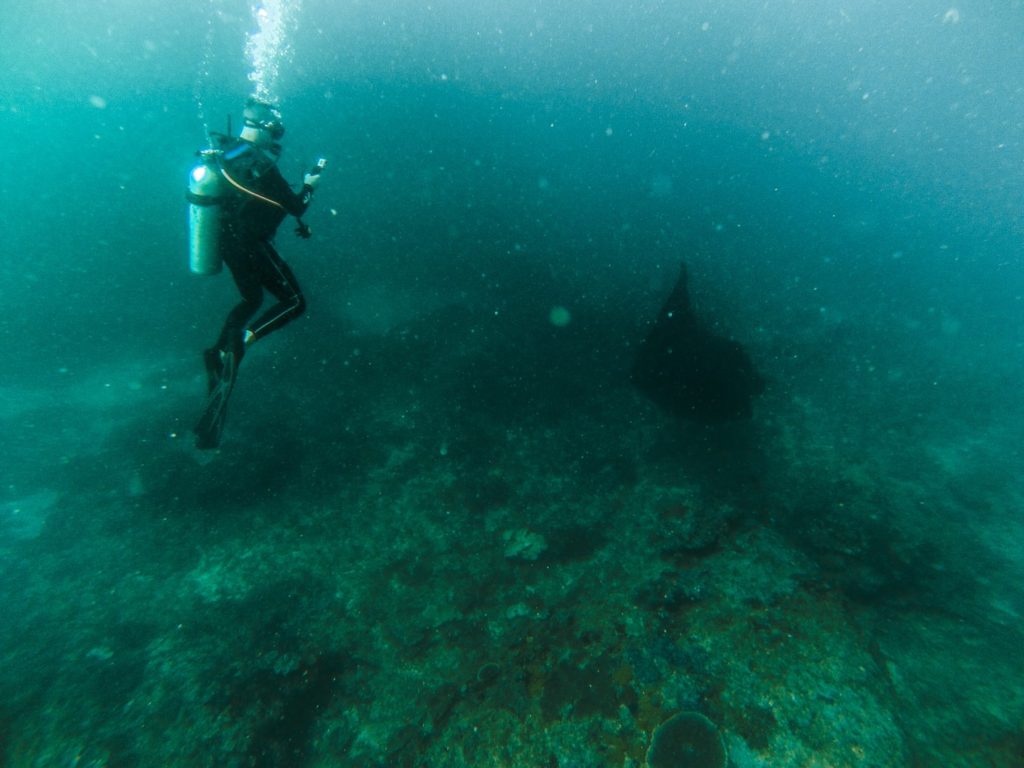 Snorkeling in Nusa Penida
If you don't have your diving certification or if you'd rather go on a snorkeling trip, then you could still swim with the manta rays during a snorkel trip. You can book your snorkel tour in dive centres or join a tour that includes snorkel options such as the West Coast Tour.
Want to swim with manta rays without spending too much time in Nusa Penida? Book your day trip from Bali. LINK
Kelingking Beach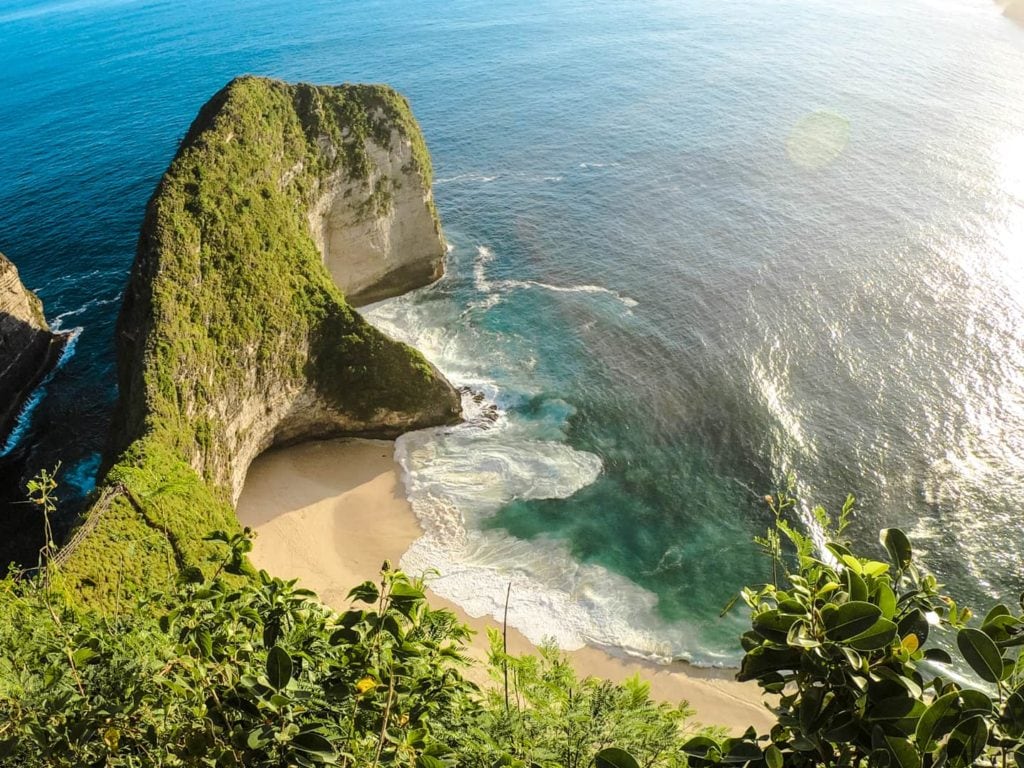 During your Nusa Penida trip, you must check out the famous "T-REX" beach. Pretty iconic, Kelingking Beach is one of the most photographed beaches in Nusa Penida, and we can all understand why. It's a pretty spot. The braves one might want to hike down to walk on the beach, but you should know that this hike is known to be quite dangerous.
There was a fee – we paid IDR 10k for two people (one scooter).
---
Did you know? You could get an extra Airbnb discount using this link! If you already have an account, you can create a new one. Thank me later!
---
Broken Beach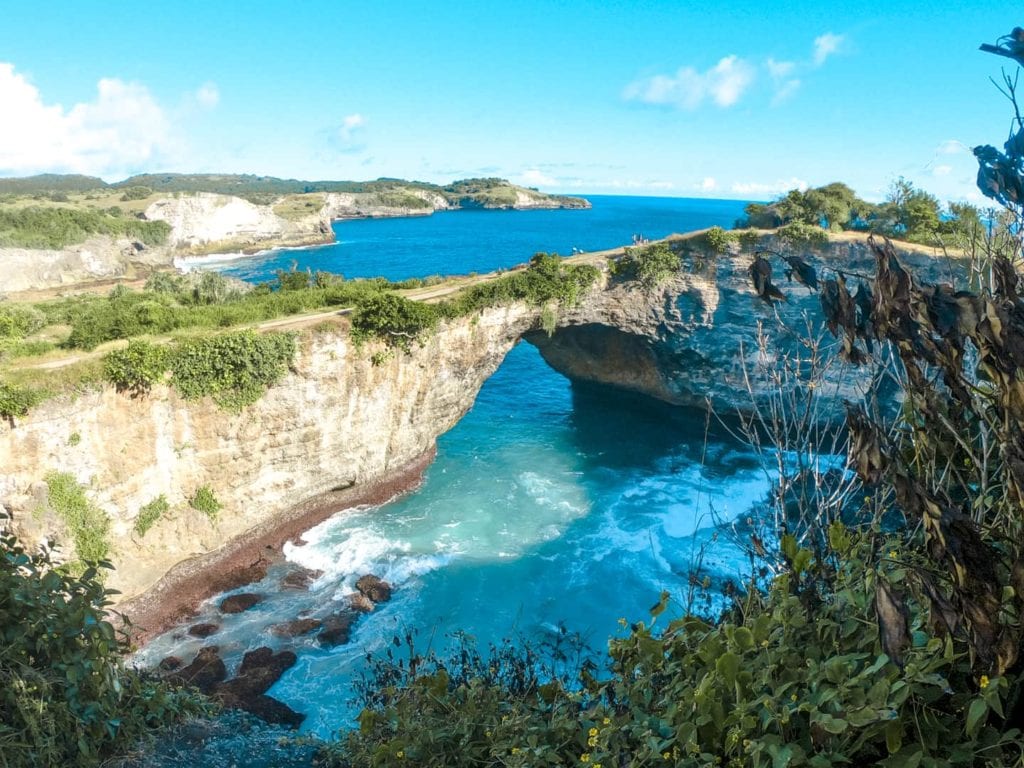 Broken Beach is a beautiful spot too. You can walk around the area, or simply sit to enjoy the views. You'll find "photography spots" all around this famous spot.
Angel Billabong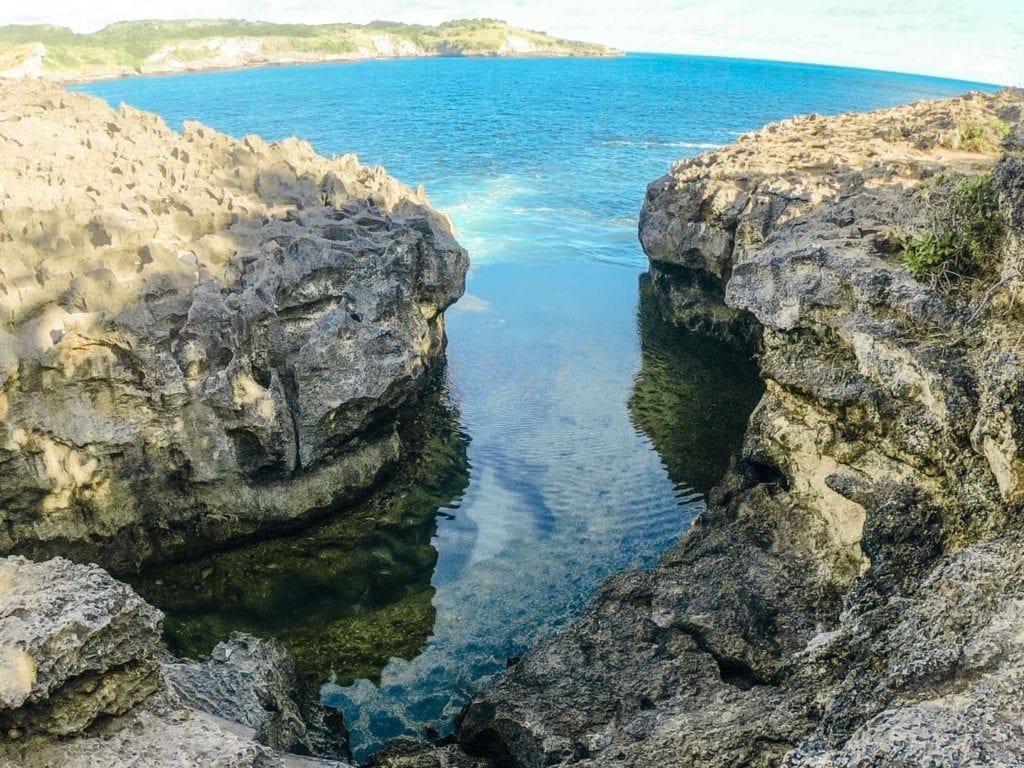 Angel Billabong is also known as a great sunset viewpoint. Located next to Broken Beach, it's also a beautiful photogenic spot to visit during your trip to Nusa Penida.
There was a fee – we paid IDR 11k for two people (one scooter).
If you have more time, you must add these places on your Nusa Penida itinerary. We didn't have enough time to see everything – but these are the ones I'd love to visit next time. You can click to save the locations on GoogleMaps – it could help you plan your itinerary!
Getting Around Nusa Penida | What You Should Know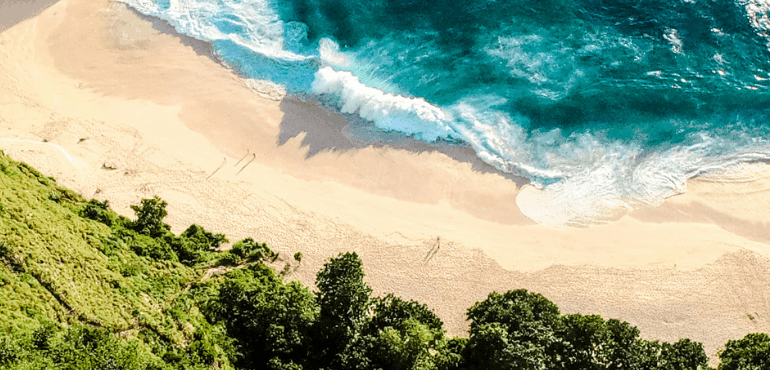 There are two ways to get around Nusa Penida.
Driving your own scooter.

Book a tour that includes a driver.
If you're thinking of driving your own scooter around the island, you should know that the roads in Nusa Penida are quite terrible. It's not the case everywhere – but sometimes, unexpectedly, the roads become really bad and there aren't safer ways to reach the destinations. That being said, even experienced drivers might struggle with these roads – so be careful and make sure your travel insurance covers you if you're driving a scooter around. LINK
Another thing to consider when renting your scooter in Nusa Penida is the state of the bike. We had to change our scooter because the first one we got was quite bad and wouldn't have survived the roads there. So make sure to take a look at the tires as well the general state of the bike. You wouldn't want to get a flat tire, would you?
If you don't feel confident with the driving part, you could also book a tour to visit Nusa Penida. This would be a safer option but it would also allow you to reach the main points easily. Sometimes, it's better to be safe than sorry.
Booking a Tour in Nusa Penida
There are many good options when it comes to finding a tour in Nusa Penida. Here are the ones I would consider myself.
West Nusa Penida Day Trip
The title says it all – explore the west coast of Nusa Penida. This tour includes the popular places such as Angel Billabong, Broken Beach, KelingKing Beach and Crystal Bay. This tour also includes time for you to go snorkel if you'd like but the snorkeling isn't included in the price.
East Nusa Penida Day Trip
This tour covers the east coast of Nusa Penida. This option is ideal if you'd rather avoid touristy places or if you've seen them all already. Think about Atuh Beach, Diamond Beach and the Teletubbies Hills.
Where to Stay in Nusa Penida
You can find different types of accommodation for different budgets in Nusa Penida, here are the ones I'd recommend.
Hostels: Nuansa Penida Hostel / Dragonfly / Acala Hostel
Mid-Range: Govardhan Bungalow / Swan Beach Inn / Double-G Guest House
Luxury: The Mesare Resort / Semabu Hills Hotel / Ocean Terrace Suite and Spa Luxury
Cool Airbnbs: If you haven't signed up on Airbnb yet – get a big discount on your first booking using this link!
Batan Sabo Cottage / The Bridge Huts / Surya Hills Ocean View
What to Pack for Your Trip to Nusa Penida
Everything related to the strong sunshine: Sunscreen, aloe vera, swimsuit, sunglasses, quick-dry towel, flip-flops, comfortable walking shoes.
Planning your trip to Bali?
You may also like:
Get your monthly (and funny) dose of adventures! Subscribe now! #YesPlease
Are you enjoying this website? If your answer is yes, you should use my affiliate links to book your accommodation for your next adventure: Booking.com, Agoda and Hostelworld!

Disclaimer: This post may include affiliate links. Happy travels!