If you ask me where is the best food is – I'd say Israel. Israeli food is one of the major reasons why I'm super happy to visit… and revisit Israel. Ha! There's a lot of food to eat in Israel – and don't worry, many restaurants have a fixed menu which means you'll get to try many dishes in one visit.
What makes Israeli food so special? I guess it could be explained by the fusion between Middle Eastern and Mediterranean cuisine. If you add the International factor to it – because the culture is pretty diverse and people comes from everywhere – you get a bunch of great dishes.
I love Israeli food because of its flavors, freshness and it also feels healthy – even though I always end up eating too much bread.
If you're a foodie, you're going to love my suggestions of food to try in Israel. Here's a list of the best Israeli foods out there including suggestions on where to eat them. Bon appetit!
Israeli Foods You Have to Try
Hummus
If I'm honest, I was never a big fan of hummus… until I visited Israel. It ruined it for me. I finally started to like it and I can't find any hummus as good as the one I had there.
The hummus found in Israel is something else. It can even be a proper meal on its own. Hummus is strongly present in the food culture and the locals would even say something like "Let's go wipe some hummus" – of course, this is an average translation, but still, you get the idea, don't you?
If you're a hummus beginner here – you should know that the base is made of chickpeas. In Israel, they add toppings to it such as paprika, lemon juice, olive oil, parsley, etc.
So grab some pita bread, and scoop it.
The best hummus is normally found in "hidden restaurants" which means they might look like "nothing special" but if the place is super busy, it's usually a pretty good sign. We had some delicious hummus pretty much everywhere but the one found in Carmel Market (see the photo below to find it) was absolutely delicious.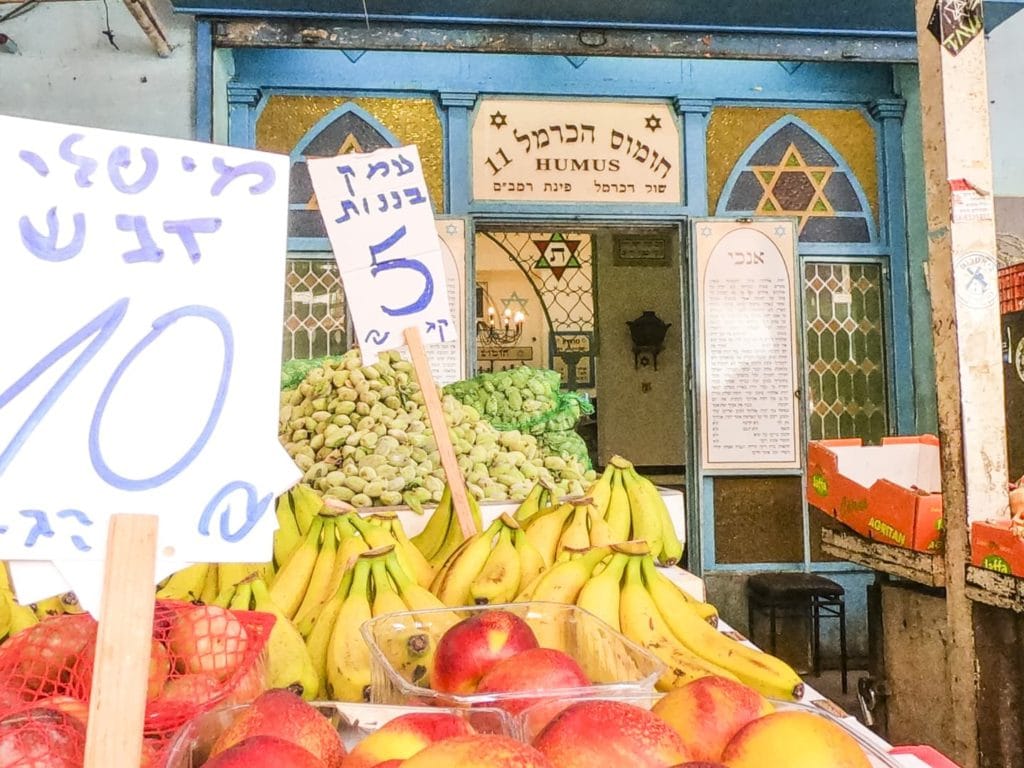 Baba Ganoush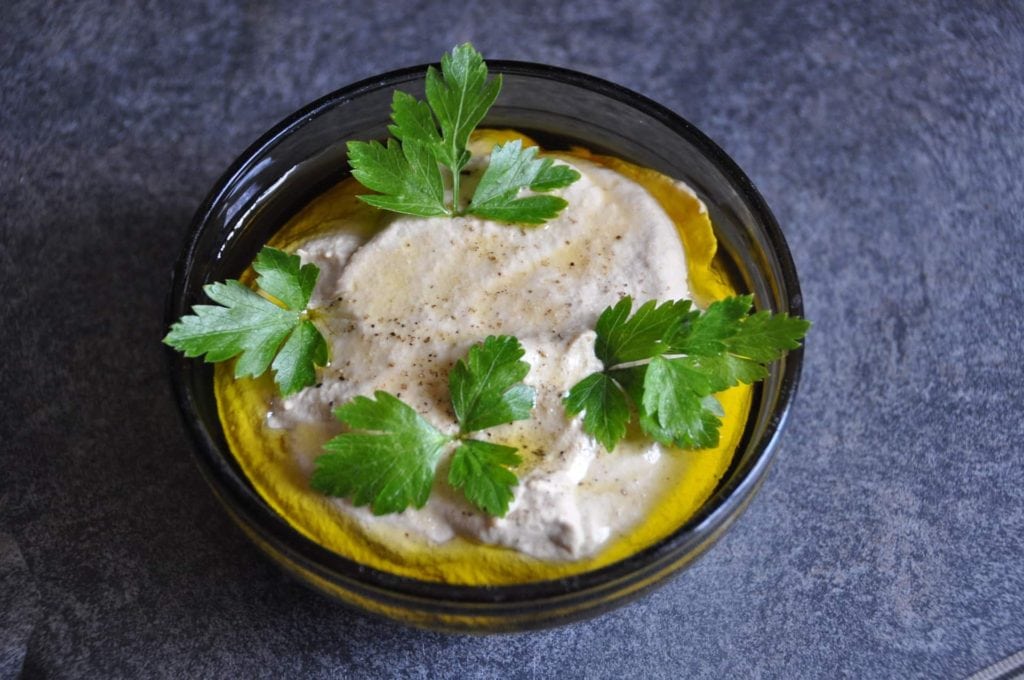 Baba ganoush is a bit like Hummus's best mate. It's a creamy grilled eggplant dip – and another great reason to eat more pita bread. Baba ganoush isn't a meal on its own. It normally comes with a bunch of other things and is more of a side dish that comes with the appetizers.
If the hummus is good, the Baba ganoush is going to be good too. Again – busy restaurants that look like "nothing special" should do the job. We had found a very busy restaurant located in the Old City of Jerusalem with great hummus and baba ganoush.
Shakshuka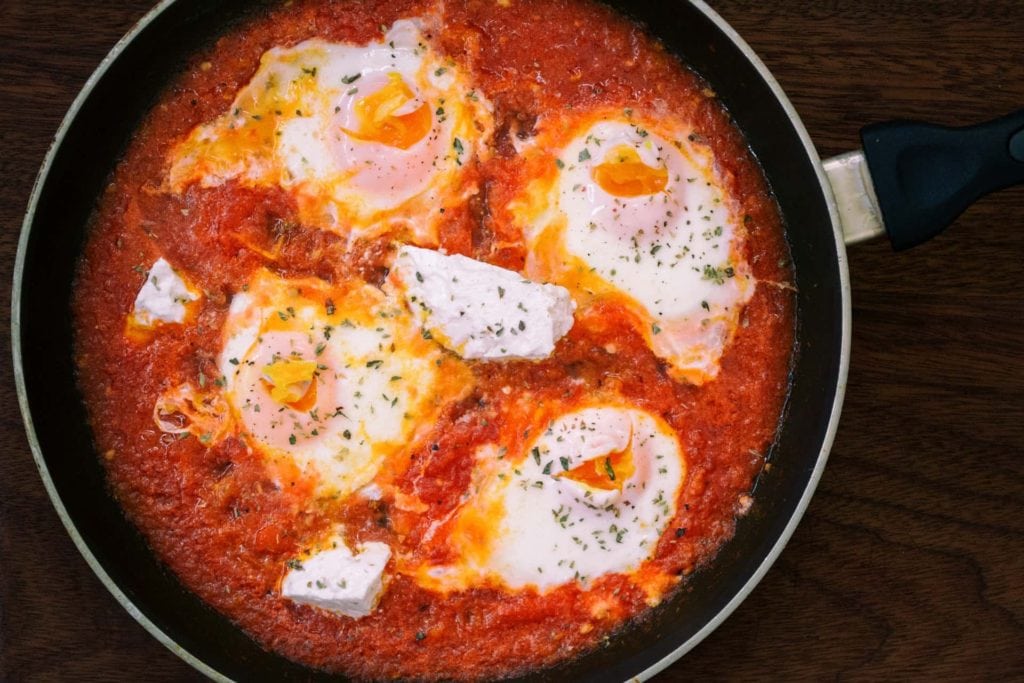 Shakshuka is one of the best Israeli food I had. This dish is very popular in the Middle East. It's hard to know who really invented it – everyone claims it. That said, it doesn't change the fact that you can find some good shakshuka in Israel.
Shakshuka is basically a sauce of tomatoes with poached eggs. It sounds pretty simple, but it's actually delicious.
You can find many restaurants that specialize in Shakshuka in Tel Aviv.
Falafel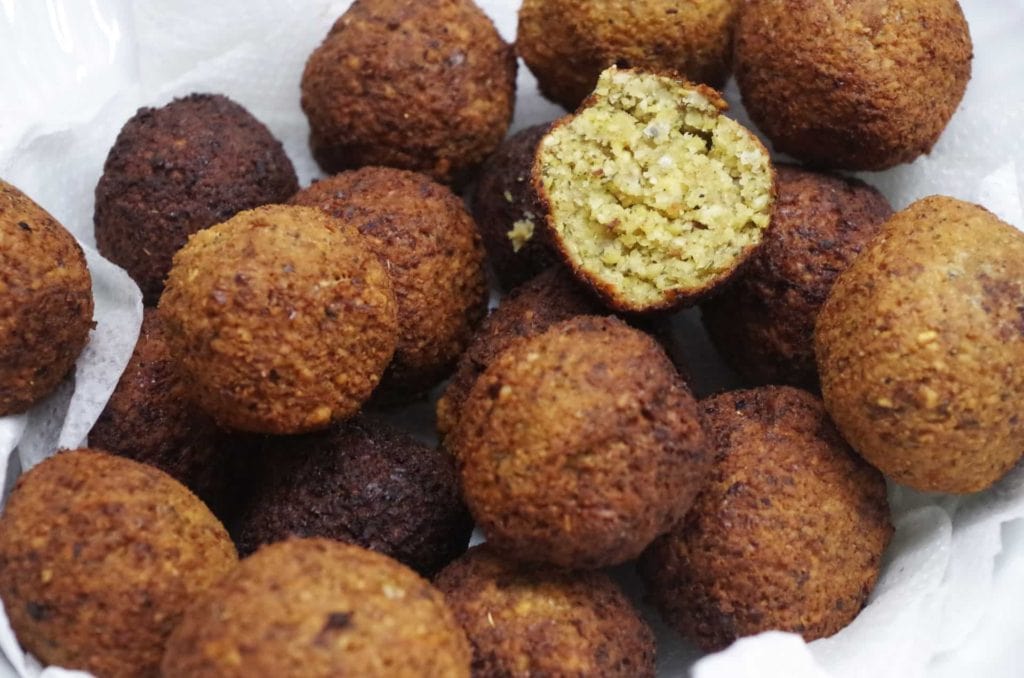 Falafels are quite popular and known worldwide. When you think about it, the idea is quite simple – a deep-fried ball of chickpeas. If you haven't noticed yet, it's super easy to eat vegetarian in Israel. There are a lot of options for non-meat eaters.
You can eat falafels on its own, with a salad, in a pita, there's no right or wrong.
You can find falafels pretty much everywhere!
Tahini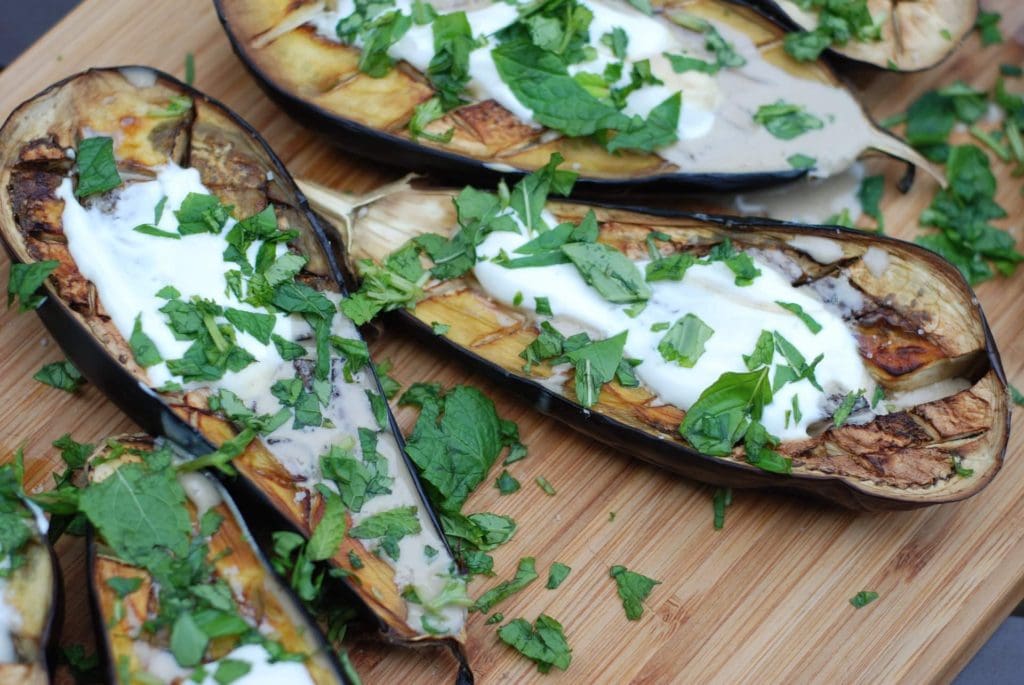 Tahini is a popular Israeli condiment. Basically, Israelis eat tahini with pretty much everything. You can dip your falafels in tahini, add it to your daily dose of hummus, or simply wipe your pita into it.
---
Did you know? You could get an extra Airbnb discount using this link! If you already have an account, you can create a new one. Thank me later!
---
Tahini is basically a sauce made of crushed sesame seeds (it's like a dense paste), lemon juice, garlic and water.
Fortunately, you'll find tahini everywhere.
Stuffed Vine Leaves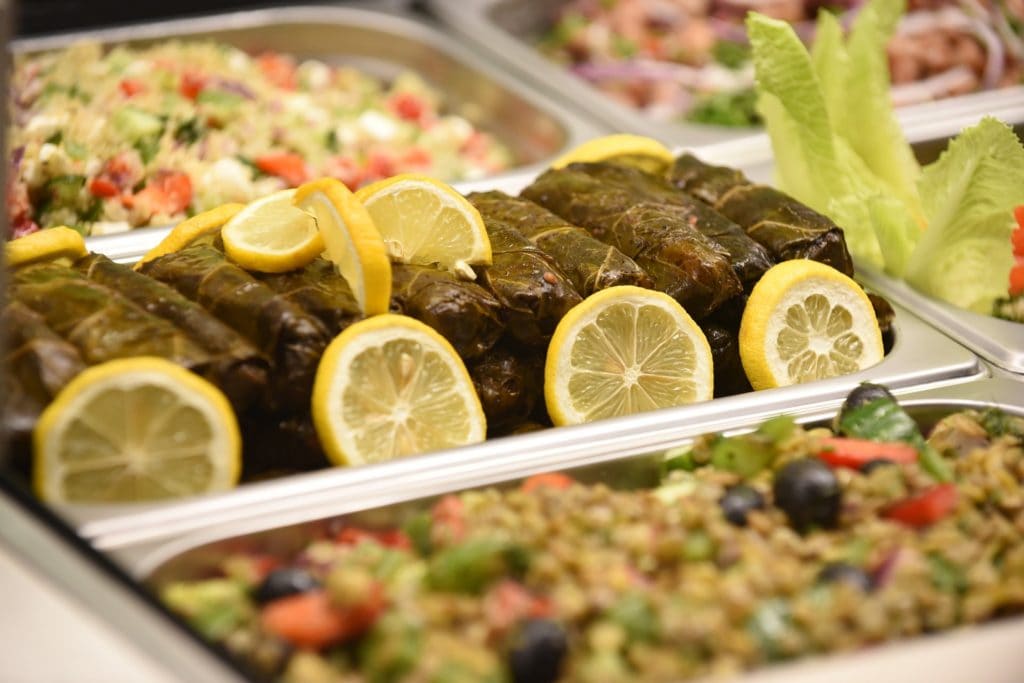 Even if this can sound a bit odd, these are pretty popular amongst Israelis. This dish is also popular in Greece, Turkey and many countries in the Middle-East.
The grape leaves can be stuffed with cheese or other things, depending on where you're getting them from.
We had some in Jerusalem at Cheese & Wine Rooftop Restaurant.
Burekas
Burekas are pretty popular in Israel and in Turkey. It's a very tasty snack easy to find in markets. These pastries are stuffed with different things such as cheese, spinach or sweet potatoes. They are usually served with boiled eggs and sauce.
You can find very good ones in both Carmel Market and Levinsky Market in Tel Aviv.
Halva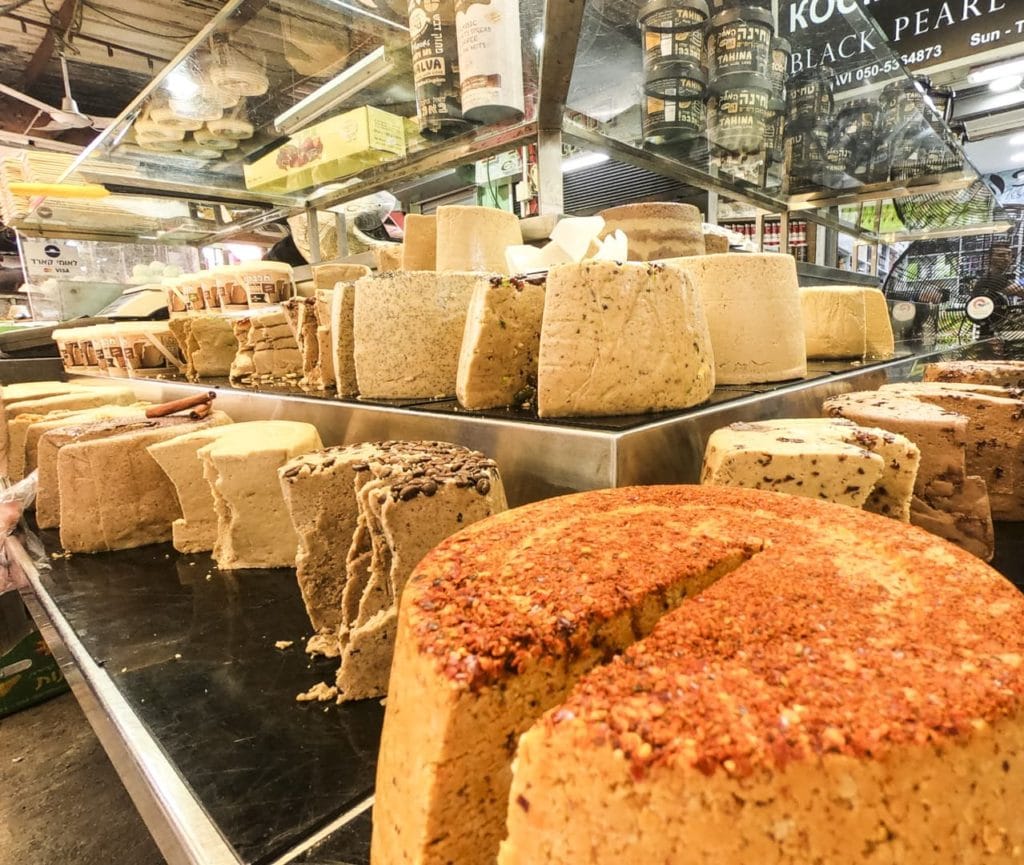 Halva is a very popular dessert in the Middle East and in North Africa. As you walk around the markets, don't be surprised if you see these big creamy cake. Halvas are usually made of ground sesame paste, tahini and other things to make it sweet.
I personally think the taste is a bit too strong for my liking, but it's loved by Israelis.
Burika
As you walk in the market, you might hear some people yelling "Burika". This means you should be in the right spot to try one of the popular street food snacks in Israel. It's definitely not the healthiest option, ha! Imagine a deep-fried dough which is filled with things such as egg, potato and other things.
You can find burikas in markets – we found them at Carmel Market in Tel Aviv.
Malabi
Malabi – is my favorite food discovery in Israel. This pudding which looks pretty simple is absolutely delicious! The pudding is topped with rosewater, nuts, coconut and cookie crumbles. It might be simple, but what a tasty combination!
We found this dessert right outside Carmel Market.
Markets in Tel Aviv
Carmel Market
Carmel Market is the largest and the most popular market found in Tel Aviv. You can find everything from clothes, souvenirs and food. Carmel Market is popular amongst travelers and locals.
Levinsky Market
Levinsky Market is a great alternative to Carmel Market. It's a bit smaller, more local and you can find a lot of great options food-wise there too. In fact, I tasted a lot of street food snacks there.
Markets in Jerusalem
Mahane Yehuda Market
Mahane Yehuda Market is a food market during the day and a party place at night which is very popular amongst the younger generations.
Markets Around the Old City of Jerusalem
You will also find a lot of good options while touring around the Old City of Jerusalem. There are many great food options in the market and in restaurants.
Food Tours in Tel Aviv
If you want to experience the markets in Tel Aviv without missing out on the best snacks and restaurants – I'd suggest you book a tour with BE Tel Aviv Tours. I did two tours with them – in both Carmel Market and Levinsky Market and it was a great (and tasty) experience.
Food Tours in Jerusalem
If you'd rather experience a food tour in Jerusalem, you can take a look at the options here.
Food is very important in Israeli culture. You will eat a lot – and eat again. Good news: you're never going to be hungry (or "hangry") over there.
You may also like:
Get your monthly (and funny) dose of adventures! Subscribe now! #YesPlease
Are you enjoying this website? If your answer is yes, you should use my affiliate links to book your accommodation for your next adventure: Booking.com, Agoda and Hostelworld!

Disclaimer: This post may include affiliate links. Thanks to MediaCentral for inviting me to Israel. As always, all opinions are my own. Happy travels.