If you're an experienced scuba diver, there's a high chance Indonesia in on your list. With places such as Komodo National Park, the Nusa Islands, the Gili Islands and Raja Ampat – there are several diving sites to consider.
As I just started diving this year, I won't be covering all the diving destinations in Indonesia – I'm sharing about my own experience diving in Nusa Penida (just outside of Bali).
But first, you should know that if you're planning to go on a diving trip in Nusa Penida, you can find more information on how to get there here or what to do on this beautiful island here.
In this post, you'll find information to help you plan your diving trip to Nusa Penida including tips for finding your diving centre and the best dive sites around the island. I'll also be sharing my experience diving in Nusa Penida as a beginner diver.
Planning Your Nusa Penida Diving Trip
Where to Dive in Bali?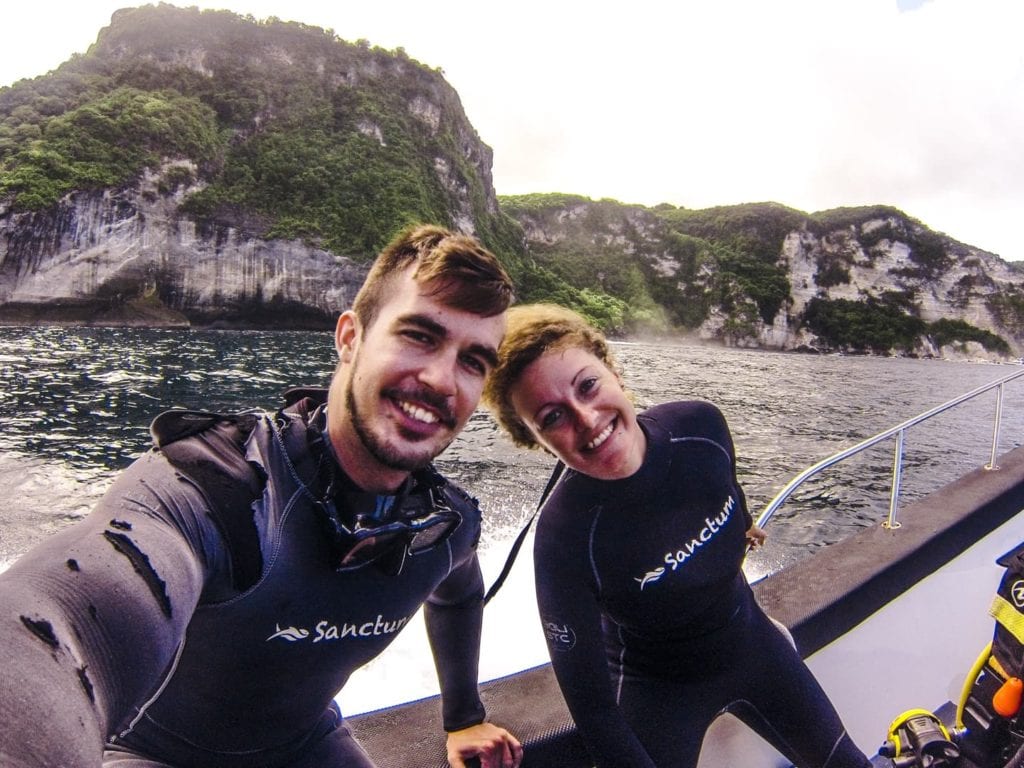 When it comes to diving around Bali – there are a few options. Some people will dive around Amed, some others will head to the Nusa Islands and some others will go on a dive trip from Padang Bai. You've probably heard about the manta rays by now – and I'm happy to tell you that you might be able to swim with these gorgeous sea creatures around Nusa Penida.
So – if you've been following so far, you might have noticed that I mentioned Nusa Islands – what do I mean by that? I'm referring to Nusa Penida and Nusa Lembongan. You can find plenty of diving opportunities around these two islands.
If you are limited on time, you might have to pick and choose one island to go to for your diving trip. If that's the case, I'd suggest you keep reading and you can base your decision on the dive sites that seem more interesting to you. I won't be talking too much about Lembongan – but I heard great things regarding diving. Although – when I made my own research, I found that diving around Nusa Penida was cheaper, so more tempting for me.
Overall Diving Conditions in Nusa Penida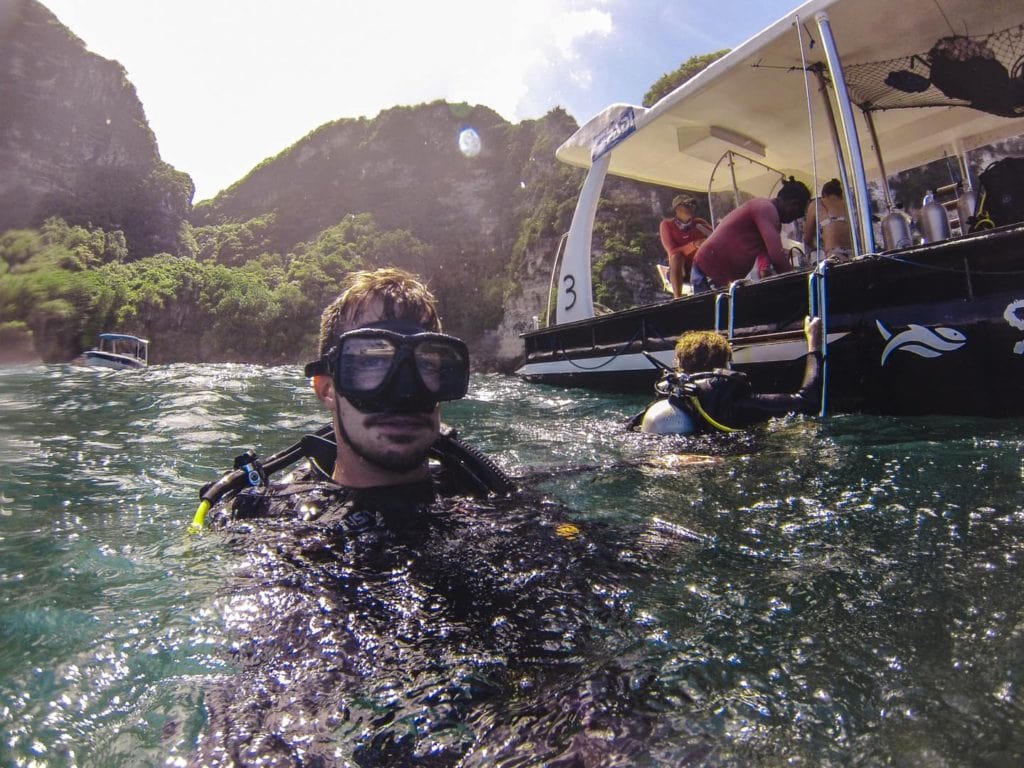 Let's talk about the currents.
The ocean can be unforgivable – and you should know that around Nusa Penida (and I'd say around many dive sites in Indonesia) – the currents are known to be strong and unpredictable. This can sound quite scary for beginner divers (like me). It also means that most dives are drift dives – this basically means that you'll start somewhere, drift with the current and will end somewhere else – the boat will then pick you up at the end of your dive.
A great tip would be to stay closer to the reef – this way you have less chance to drift away in the current.
Also – you should keep in mind that the water is known to be cold around there too – which means you'll be wearing a warmer wetsuit. Don't worry – dive centres have the right ones.
Usually, the visibility is quite good – depending on the dive sites and on the season too.
How to Pick Your Diving Centre in Nusa Penida
When I pick a diving centre, I always make sure to read the reviews. I was honestly quite nervous about diving in Nusa Penida for two main reasons.
The strong currents I had read about

My lack of experience as a scuba diver
After all, I only had 6 dives prior to this trip. Rationally, when you think about the fact that many beginners do their PADI there or even worst – their discovery scuba-dive – I thought they if they can do it – I can too.
Still – I visited two dive centres to feel the vibes and I picked one – more expensive – but I felt more comfortable with the staff. (Was it worth it to pay more? Mmm. Considering we got a hickup procedure-wise during my first dive – I'm not so sure.)
Best Nusa Penida Dive Sites
Manta Rays and Mola-Mola Seasons
Let's talk manta rays and mola-mola and when it's the best time to see them.
Regarding the manta rays, you can normally see them all year long. Of course, there's no guarantee you'll see them – after all – they are free animals – but it's quite likely. You can normally ask the dive centre when was the last time they've seen them – it could give you a rough idea.
---
Did you know? You could get an extra Airbnb discount using this link! If you already have an account, you can create a new one. Thank me later!
---
You could see them at these dive sites:
Some dive centres call them Manta Point I-II. You should know that there are two main differences about these sites – one is a cleaning station and one is a feeding station. My dive centre said we were going to the cleaning station and they called it Manta Bay – but what do I know – when I look online, this one seems to be called Manta Point.
When it comes to the mola-mola, then it's different. Your best bet would be between August and October – and again – there's no guarantee here.
You could see them at these dive sites:
Crystal Bay

Gamat Bay

Toyapakeh

Ceningan Wall

Blue Corner
Here are other sites for drift dives:
Sental

Pura PED

SD

Malibu Point
My Own Experience Diving Nusa Penida
If you've read about the hick-up situation, you might be wondering what happened. Let's talk about my two dives in Nusa Penida.
Manta Rays Cleaning Station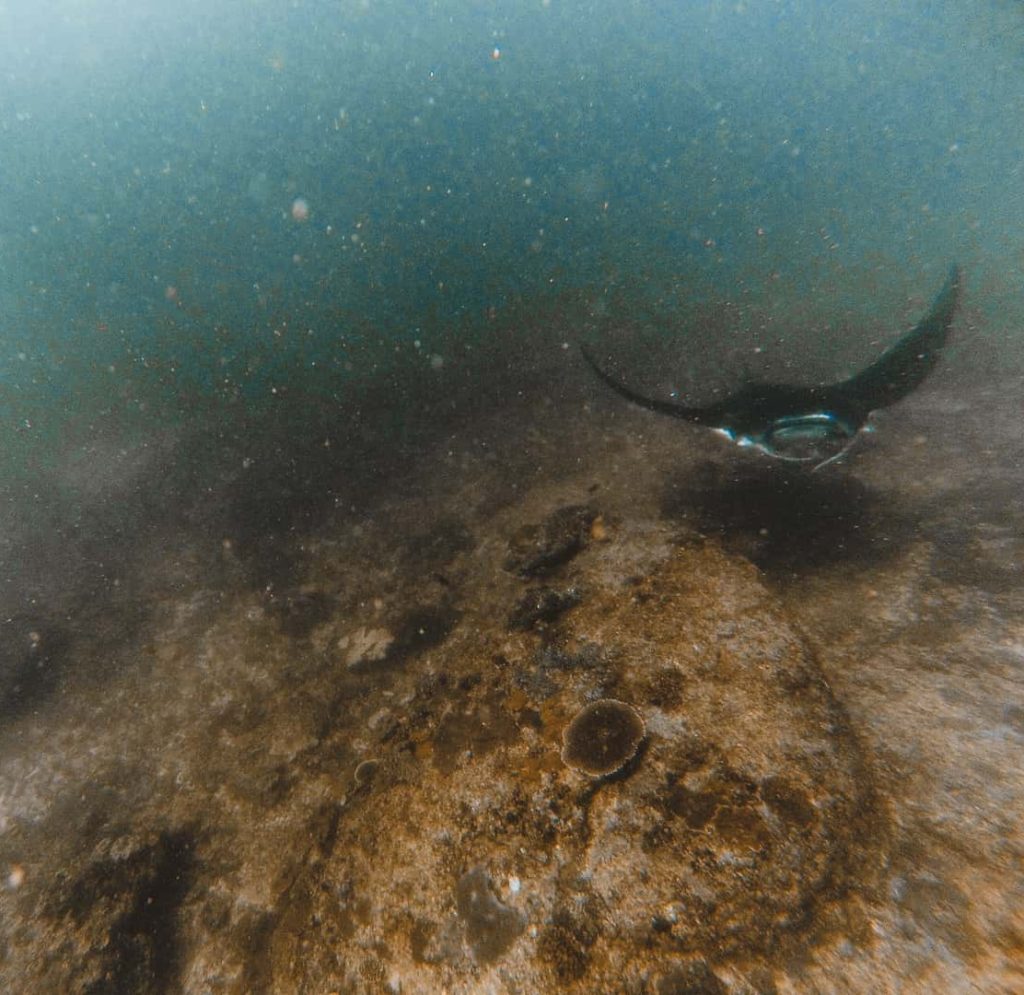 The first dive of the day was at Manta Cleaning Station. (I'll call it this way since every dive centre has a different name for it.) This isn't a deep dive (11m according to my dive log). The sea was quite choppy so we were feeling the surge of the waves. It felt a bit weird at the beginning.
It was my second time swimming with manta rays – my first time was in Komodo National Park during a snorkeling trip. As always, it was spectacular – but the visibility was quite bad. We could see the manta rays just passing by at the very last second which was quite interesting anyway.
As I'm still a newbie scuba diver and I had another hick-up during the previous dive (long story short – I got separated from my buddies as the visibility was quite poor) – I was feeling quite nervous about diving. That being said, I consumed my air faster than the others. As I was running low on air, my dive master offered me to share air so we can stay down longer – I didn't really want to, but I felt pressured. I panicked a little after getting his regulator and I had to switch back to mine. I was way too nervous and I swallowed water in the process. That being said – the right procedure – ending the dive regularly – would have been the right thing to do. He shouldn't have suggested sharing air in the first place – especially since I told him I was quite nervous about diving again and I only had 6 dives in.
(So, you tell me – was it worth it to pay more for this?!)
SD – Drift Dive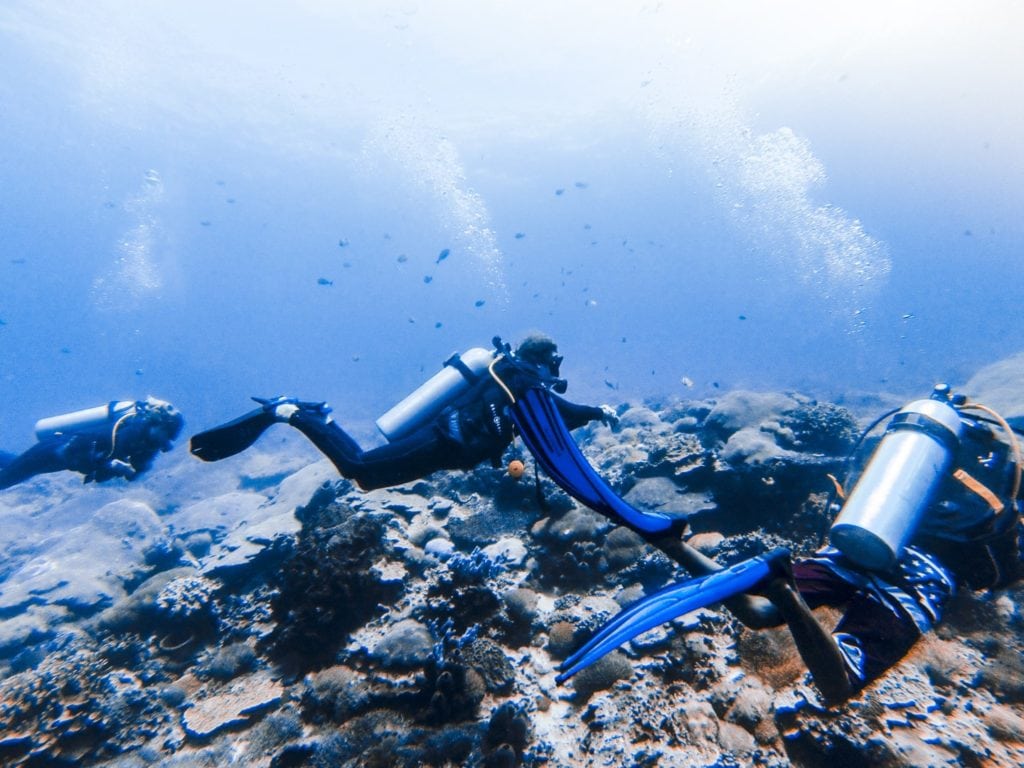 At first, the plan was to dive at Crystal Bay (which is one of the most popular dive sites around Nusa Penida), but when we got there, the currents were too strong and we had to go to SD – which refers to Elementary School. SD is located on the north shore and is popular for its drift dives.
The visibility was the best I had so far in my scuba diving experience, so I was pretty pleased with this dive. This dive was a bit deeper (15m).
FAQ About Scuba Diving in Nusa Penida
What are the best scuba diving options in Nusa Penida for beginners?
The manta points are normally not too bad for beginners as it's not that deep and also the current aren't as strong in that area.
Also, the North Shore is well known for its drift dives and the fact that the water is a bit calmer there.
If you feel nervous about the currents, just tell your dive master. They won't bring you to a spot with strong currents anyway. They normally can see it from the boat.
Of course, keep in mind that currents can be unpredictable.
How much does scuba diving cost in Nusa Penida?
If you are wondering how much it cost to dive in Nusa Penida, you should know that dive centres have different prices. Some of then include the fee for the manta point and some others have additional fees.
To give you a rough idea, I paid more than the usual price – IDR 1,230,000 for 2 fun dives including the fee for the Manta Point. I visited another centre that was a bit cheaper (about IDR 1,000,000).
What to pack for your diving trip to Nusa Penida?
Planning on diving in Bali? Here are a few things you should bring with you!
Where to stay while in Nusa Penida?
If you're planning on staying in a dive resort – you should still take a look at the other options. You can find nicer accommodation and simply book your dives with a dive centre.
Hostels: Nuansa Penida Hostel / Dragonfly / Acala Hostel
Mid-Range: Govardhan Bungalow / Swan Beach Inn / Double-G Guest House
Luxury: The Mesare Resort / Semabu Hills Hotel / Ocean Terrace Suite and Spa Luxury
Cool Airbnbs: If you haven't signed up on Airbnb yet – get a big discount on your first booking using this link!
Batan Sabo Cottage / The Bridge Huts / Surya Hills Ocean View

You may also like:
Get your monthly (and funny) dose of adventures! Subscribe now! #YesPlease
Are you enjoying this website? If your answer is yes, you should use my affiliate links to book your accommodation for your next adventure: Booking.com, Agoda and Hostelworld!

Disclaimer: This post may include affiliate links. Happy travels!