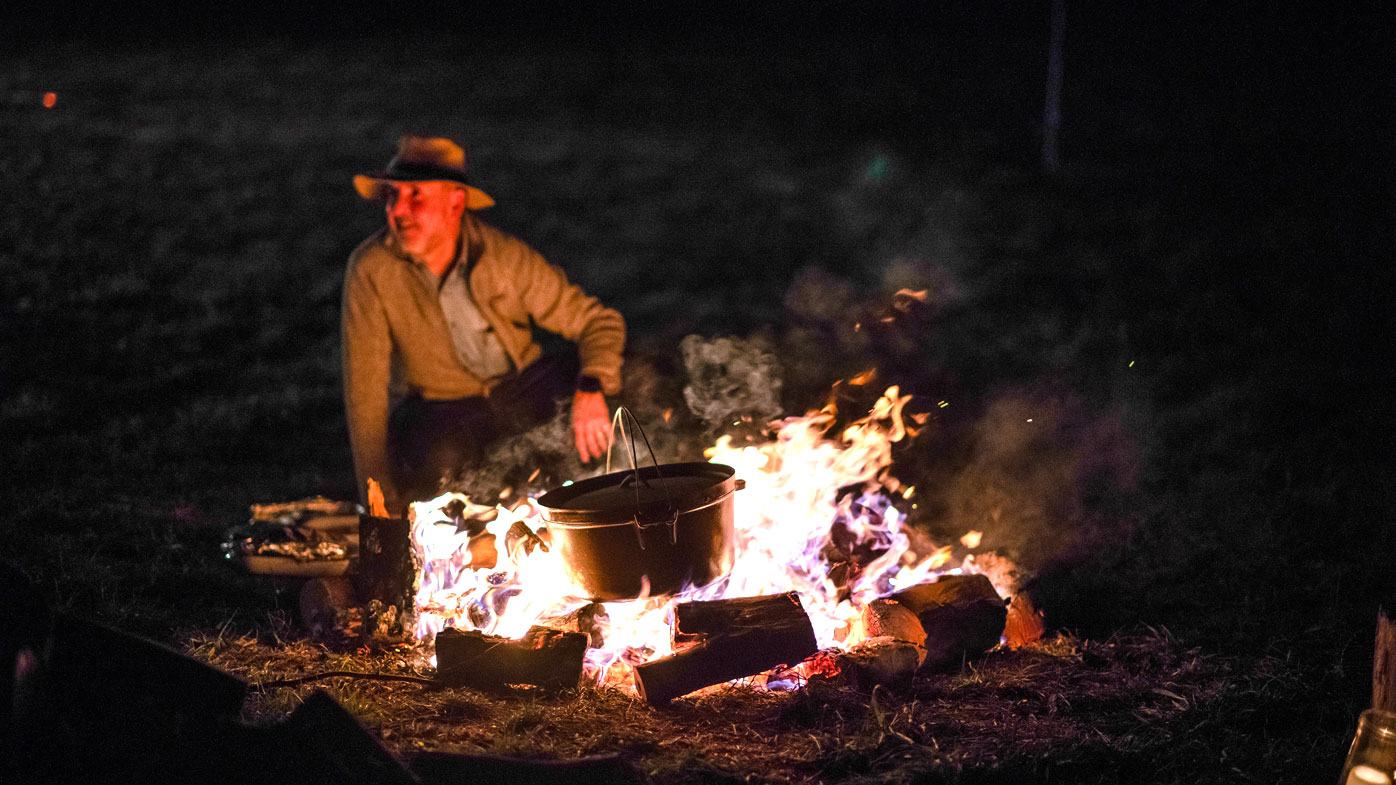 The cooler weather may have hit, but that's no reason to lock yourself inside this winter.
In case you missed it, Australia is teeming with incredible eats, and our stance as full-fledged foodies is more apparent than ever. And, some of the country's most epic food festival events are coming up in the winter months.
Ready to fill your belly with some world-class comfort food? Here are five of the best winter food festivals to get around this year.
Dark Mofo Winter Feast, Hobart, Tasmania
Dark Mofo delves into centuries-old winter solstice rituals, exploring the links between ancient and contemporary mythology, humans and nature, religious and secular traditions, darkness and light, and birth, death and renewal through a mix of large-scale public art, food, film, music, light and noise.
Running from Thursday, June 6 until Sunday, June 23 Dark Mofo is gearing up to set Tasmania alight with a program unlike anything you've ever seen.
The Winter Feast is held almost every day of the festival, and provides exceptional food and drink for when you're ready to put your feet up and sink your teeth into local cuisine.
Discover why Tasmania is home to world-class, award-winning food and wine.
When? June 6-23, 2019.
Where? Hobart, Tasmania.
How much? Ticketed events vary in price. Visit Darkmofo.net.au for more information.
Mumm Champagne long-lunch, Thredbo, NSW
With Australia's ski-fields experiencing the best snowfall seen in years, this weekend Mumm Champagne will launch the 2019 Thredbo ski season with the most anticipated Mumm long-lunch down in Thredbo Village.
Thousands of ski enthusiasts and foodies are set to descend on Thredbo for a deluxe four-course meal, ski sabrage and champagne fountains, all to be enjoyed along the village's longest ever table setting
The Mumm long-lunch is just one of many après ski celebrations to be enjoyed at Thredbo Village this ski season.
When? Sunday, June 9, 2019.
Where? Villiage Square, Thredbo and Cascades Restaurant, Thredbo.
How much? $129 per person – book by emailing tahreception(at)evt.com.
Good Food & Wine Show, Sydney, NSW
Enjoy a fun day out with friends, sampling the latest foods, wines and home products at the Good Food & Wine Show.
Expect celebrity chefs, inspiring masterclasses and hundreds of local and international exhibitors at each show, it's the perfect day out for all food and wine lovers.
Whether you're into sweet or savoury, beer, wine or spirits, they've got you covered.
Can't make the Sydney show? The Melbourne Good Food & Wine Show has already wrapped up, but the Perth leg is on August 23-25, and the Brisbane leg will be going down on October 25-27.
When? June 21-24, 2019.
Where? International Convention Centre, Sydney.
How much? Tickets start at $27. Visit Goodfoodshow.com.au to purchase yours.
Truffle Kerfuffle, Manjimup, WA
Truffle Kerfuffle is an all-weekend celebration of one of the world's most luxurious ingredients – fresh black truffles – just minutes from where they are unearthed.
Manjimup is the heart of Australian truffle country with more truffles found here than anywhere in the Southern Hemisphere.
Join in on the festivities this June and be consumed by the heady aroma of truffles at their freshest. Go hunting, taste your way through the Festival Village, meet farmers and growers, discover local wine and produce and indulge in truffle laden experiences with world-class chefs.
When? June 21-23, 2019.
Where? The Shire of Manjimup, WA.
How much? Ticketed events vary in price. Visit Trufflekerfuffle.com.au for more information.
Orange Winter Fire Festival, Orange, NSW
If you're looking for an excuse to escape the city this winter, head to Orange.
Orange Winter Fire Festival draws its inspiration from the traditional Aussie bonfire tradition. You know, everyone gathering around the flames to swap stories, hang out and – most importantly – get stuck into some killer food.
Expect bonfires, char-grilled feasts, star gazing from both European and Indigenous perspectives and blazing Sunday lunches in country pubs, cafes and restaurants.
Producers and venues really turn up the heat for this festival, designing some truly unique events that showcase everything the region has to offer, all year round.
When? August 2-4, 2019.
Where? Orange, NSW.
How much? Ticketed events vary in price. Visit Orange360.com.au for more information.