What is Thai food? Most of us know these days. Many have eaten Thai food in a restaurant at least once, so maybe a guide to Thai food for beginners is a little redundant. All the same, Chef and I thought we'd put together a beginner's guide to Thai food to help you out if Travel in Thailand is new to you. Maybe you're taking kids to Thailand ( great plan!) and wondering what they can eat, or maybe you want to try cooking Thai food and aren't sure where to start. Maybe you're just visiting a Thai restaurant for the first time and need to know what to order. This guide to Thai food is for you.
There is a lot of bad Thai food around the world and some of the food served in Thailand is bad too, if it's churned out for tourists with no pride in the end product. But done right it's incredible, many people consider it the most delicious food in the world. It's light, healthy, delicately fragrant and full of vegetables. It's not necessarily fiery hot.
So chef and I want to give you Thai food for beginners, for any Thai food virgins out there stressing over what to eat in this part of the world.
Thai Food for Beginners, What is Thai Food?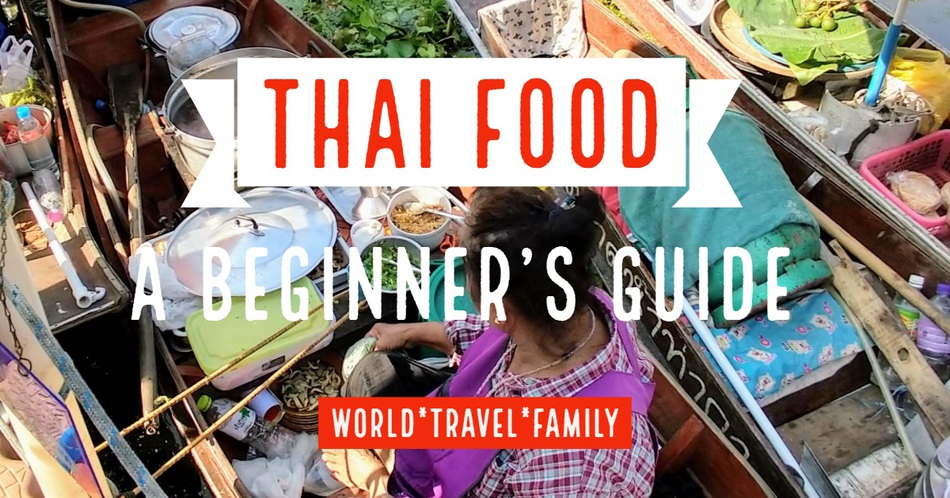 We've slaved long and hard over this, eaten at many restaurants and tried everything on the menu. We'll start with the basic Thai dishes. There is huge variation in how cooks prepare dishes, no two ever make an identical meal. Eat around, find the restaurant you like and watch out for MSG, I've learnt the hard way that it's nasty. You will find the basic dishes below all over Thailand but there are also regional specialities to look out for, such as Khao Soi, synonymous with Chiang Mai.
Hit the red button to your left or at the bottom of the page to see our pins and bookmark your favourite to Pinterest.
What is Thai Food ?
We made this video for you to start to explain.
Not All Chillies are Created Equal
Don't be scared of the chillies! You do find chilies in just about every dish but they're not always hot. The bigger ones are just another vegetable, so mild my children will eat them without complaint. They're full of vitamin C so eat up. It's the little ones you've got to watch.
Often you add your own chilli to taste. The best places to eat have plenty of condiments to adapt your dish whichever way you like. You'll see small devilish chillies in fish sauce ( Prik Nam Pla ) or vinegar and ground dries dried chilies and pastes. Make your own Thai condiments here.
Restaurants that serve tourists quite often assume the farangs aren't up to the heat, you have to ask for your food spicy or with chilli ( prik in Thai).
Thai Soups
Thai soups are served as part of the main meal, not as a starter. They're filling enough in themselves, but sometimes people order rice on the side. With rice or without, either is OK, nobody will think you're weird.
Your soup will contain sticks and leaves, you're generally not supposed to eat them, although very young kaffir lime leaves are yum. Just take out the pieces of lemon grass, galangal ( galangal is far more woody than ginger), lime leaves, tamarind pods etc.
The two main soups you'll find are Tom Ka ( or Tom Kha) and Tom Yam ( or Tom Yum).
Tom Yum
This bowl on Tom Tum Goong ( prawn) is the best I've ever eaten. Bought from a tiny backstreet restaurant in Hua Hin, I have never had another Tom Yum that could measure up, I dream of this soup!
Tom yum is hot with chillies and sour with lime. It doesn't normally contain coconut, the stock is almost clear sometimes.
Tom Ka or Kha
Tom Ka is a highly fragrant thin coconut soup. It can be totally spice and chili free, my children love it that way. Sometimes it has chillies. The key ingredients are the galangal and lemon grass. Kaffir lime leaves and fresh basil add more fragrance. Tom Ka often features delicious Asian mushrooms. Our current favourite restaurant uses celery leaf, they're a great addition.
Variations on Fried Noodles.
Pad Siew ( or Pad See Ew)
I must have seen this spelled a dozen different ways. Spelling for everything varies immensely in Thailand.
This one is Chef's favourite. Fat, slippery rice noodles fried with soy sauce ( the siew) and vegetables, with or without meat. Pad Siew contains greens, kale, Chinese broccoli, or similar.
Pad Thai
Probably the food most often consumed by tourists in Thailand and certainly a Thai food for beginners, Pad Thai can be delicious or dodgy. The one below, bought at a street-side restaurant in Bangkok was incredibly good. I've also had some that I just couldn't eat, greasy with pig fat and some sort of toxic orange sauce.
A real Pad Thai has thin rice noodles stir-fried with eggs and small pieces of firm tofu. Its flavored comes from tamarind , fish sauce, tiny dried shrimps, garlic or shallots, chilies and sugar. It should be served with lime and peanuts. Sometimes there are vegetables, I think the best Pad Thai has plenty of bean sprouts. You can order it with meat or prawns sometimes.
Know Your Thai Curries.
All Thai curries are coconut milk-based. Coconut milk isn't the clear liquid inside a drinking coconut, that's coconut water. Coconut milk is made from the flesh of the coconut and can be thick or thin. The eponymous colours of the curry come from the curry paste, all contain chillies and aromats. The curries all come with a choice of protein or straight vegetable. The main curries you will find are:
Green Curry
The green curry paste is green because of the green chili content. Green curry is normally sweeter than red curry, but I've not noticed. Fresh coriander, basil and kaffir lime leaf can enhance the paste's greenness. Thai green curry almost always features various mini green aubergines, sometimes quartered, sometimes whole. I love them!
Red Curry
Thai red curry paste is made from fresh and dried red chillies.
Yellow Curry
Yellow curry is richer and creamier than red or green curries because of the coconut cream content. The yellow comes from fresh turmeric in the paste, making it slightly Indian-like.
Massaman Curry
Massaman refers to Muslims. This curry is filling with potatoes, lots of sugar and peanuts and is about the heaviest dish you'll find, I think. Chef loves this one.
Panang or Penang Curry.
Penang curry is similar to red curry but sweeter. Coconut cream makes is heavier and richer.
Various Fried Dishes.
These usually come in chicken, vegetable, prawn or tofu varieties. They're all good and this is the stuff that my children love to eat. The sauces contain a little garlic, soy and sugar. Sometimes we order them with rice if we're really hungry. They're not greasy, or shouldn't be.
Chicken with basil and chili.
Don't ask for this without heat, the chili makes the dish. Delicious and a Thai classic.
Chicken ( or other) with cashew nuts.
I love vegetables with cashews, or tofu with cashews, I'm not much of a meat eater and non animal protein is hard to find sometimes.
Chicken with vegetables.
It's good, vegetables vary and are seasonal. They're very fond of baby corn and cooked cucumber in Thailand.
Chicken with ginger
This is a family favourite with us and contains loads of shredded fresh ginger, as a vegetable, not a flavouring. You'll also have a lot of onion and sometimes other vegetables
Other Thai Dishes.
Thai style omelets are one of my favourites.
Omelette Rice
Omelette rice is the budget traveller's friend. It's often the cheapest thing on the menu. It may not sound very exciting but it's good when you hit it with the condiments.( Prik Nam Pla especially)
Thai filled omelettes, stuffed with a meat and herb mix are amazing!
Larp or Larb
Larb is a meat salad.
Finely chopped meat ( or tofu or mushrooms), usually cooked, mixed with herbs. The meat is sometimes served raw, I had raw pork this way years ago, which wasn't clever.
Larb is really zingy with mint, lime juice and fish sauce . If your larp is crunchy or grainy, it contains chopped toasted rice. You normally have sticky rice and raw vegetables and chilies served on the side.
They do great laarp in Laos if you can find a good restaurant.
Thai Salads
Thai salads are great but I haven't had one in years because I love the soups and curries so much, so no photos, yet! We made a few on our cookery course and they were an absolute revelation. Shredded green papaya is a major ingredient, along with fish sauce.
Thai Food for Vegans and Vegetarians
On the face of it, it may seem that Thailand is a paradise for vegans and vegetarians with every meat dish having a tofu based alternative, but think again. Thai food, although tofu based, wasn't created with vegans in mind, you will find dried shrimp, fish sauce and oyster sauce fairly ubiquitous and will need to ask specifically for your dish to not contain these animal products. There are plenty of vegan and vegetarian cafés and restaurants to be found, but they are aimed at tourists so prices are high. There are exceptions of course, there are some vegan and vegetarian food outlets aimed at local Thai people, there are few near the Hindu temple in Sukhumvit and one near the north wall in Chiang Mai, but you'll need to hunt for them. The Thai expressions for " no fish sauce please" and more, can be found here.
You can Pin this, just hover!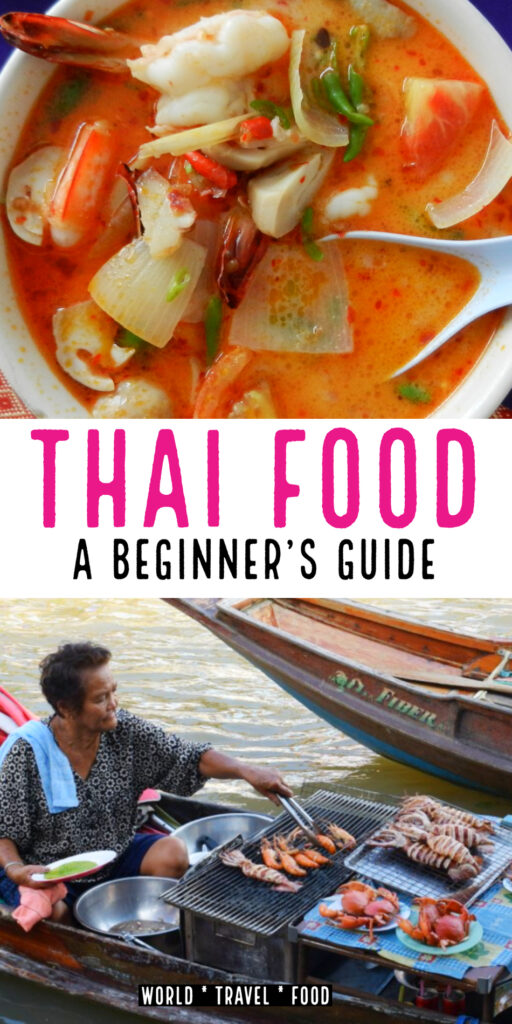 Back in 1999, when I went to Thailand for the first time, I had never tried Thai food that I hadn't cooked myself.
I'd religiously watched Keith Floyd and his Far Flung Floyd TV series, bought his book and tried a few recipes. I thought I was doing something wrong. I knew my Indian curries so the thin, soupy Thai curries just didn't seem right to me. They were delicious, but maybe they needed thickening?
I got used to them on that trip to Thailand and I tried just about every new dish I could find. A couple of years later Chef ( my husband) and I took a 3 day Thai cookery course in Chiang Mai. I've got a certificate to prove I can smash my own curry pastes, not that I ever do.
We'd never eaten so well as on that course, if you get the chance, take one. You'll find cookery courses all over Thailand, starting at just half a day.
You can find whatever food you like in Thailand, pizzas, fries, sandwiches it's all here. If you're coming to Thailand and don't fancy Thai food, you're not going to starve. But do yourself a favour, give it a go. Thai food is heaven. What is Thai food? Delicious! Head Back to our main Thailand Travel page of the blog.