Tens of millions of people around the world are in lockdown and can only leave their homes for food, medicine and exercise, in a bid to bring the coronavirus pandemic under control.
In France, the government has ordered residents and tourists into confinement as the number of virus cases topped 6,600, including 148 deaths.
The government has deployed 100,000 police officers to enforce the nationwide coronavirus lockdown.
The French Interior Minister Christophe Castaner warned Monday that anyone leaving their homes would have to justify their movements.
In a televised public address, French President Emmanuel Macron said that from midday Tuesday, and for at least 15 days, people in France would only be allowed to leave their homes for necessary activities such as shopping for food or going to work.
He said gatherings of families and friends were banned, though people could take exercise, provided they kept their distance from each other.
It's the latest European nation to introduce the drastic measure, following Italy and Spain, which have imposed strict nationwide lockdowns, shutting down all non essential services, ordering people to stay inside and threatening those who ignore the restrictions with fines.
Other countries, including the US, Iraq and Iran have also started following suit.
The coronavirus has so far infected more than 182,000 people and killed more than 7,100 globally, with those figures rapidly increasing.
Meanwhile, the US – the world's most powerful country – also faces the prospect of going into complete lockdown. San Francisco is already under "shelter in place" guidance, requiring the city's residents to stay inside their homes, leaving only for essential needs such as grocery shopping, going to the police, bank, gas stations and pharmacies.
"We're absolutely considering that," New York Mayor Bill De Blasio told CNN this morning.
"We're going to look at all other options, but it could get to that for sure for the whole country."
Canada yesterday announced its borders would be closed to all non-citizens, with the exception of US citizens, to contain the outbreak.
Similarly, the European Union announced late Monday that it would shut its external borders to all non-essential travel.
British nationals have also been advised against any non-essential travel globally for 30 days or risk becoming stranded as more and more international borders close, British Foreign Secretary Dominic Raab told the House of Commons Tuesday.
New restrictions have also been imposed across Southeast Asia, where a rise in cases prompted swift action from governments on Monday. Tens of millions of people in the region have now had their movements restricted in Malaysia and the Philippines.
Live Updates
Leading infectious disease doctor Anthony Fauci has revealed "it's possible" the US could see a peak in the number of coronavirus cases in 45 days, around May 1.
"45 days is not unreasonable," Dr Fauci said on Tuesday local time.
Dr Fauci was responding to comments made earlier by New York governor Andrew Cuomo who said he had received that advice based on information he has received from experts.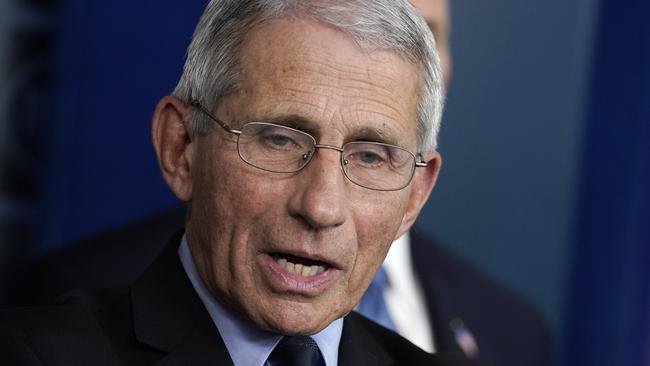 Mr Cuomo said at that point the state will need as many as 110,000 hospital beds.
Amazon will suspend shipments of non-essential items to its warehouse as the ongoing coronavirus pandemic worsens.
The online retailer announced it is prioritising medical supplies, household staples, baby products, grocery and other high-demand essentials until April 5.
It said it was being forced to prioritise particular categories of goods in order to "quickly receive, restock, and ship these products to customers" because of increased demand that was depleting them.
The move follows huge increases in orders of certain products on Amazon, including face masks and toilet paper, as more shoppers flocked to e-commerce sites like Amazon for their shopping. That's put significant strains on Amazon's supply chain, resulting in shipment delays, technical glitches, and labour shortages.
"Amazon is taking drastic measures to address logistical challenges faced amid the coronavirus pandemic," Steven Yates, chief executive of Prime Guidance, an agency that helps Amazon sellers, said. "Amazon has struggled to keep up with demand on essential items, so this move will allow them to focus more available resources to meet this increased demand."
There are at least 5,010 cases of the novel coronavirus in the US, according to the state and local health agencies, governments and the US Centers for Disease Control and Prevention.
According to the CDC repatriated citizens accounted for 70 of those cases.
In total, 97 people have died from the virus in the US.
"Stealth" coronavirus cases are fueling the pandemic, with a staggering 86 percent of people infected walking around undetected, a new study says.
Six of every seven cases – 86 percent — were not reported in China before travel restrictions were implemented, driving the spread of the virus, according to a study in the journal Science.
"It's the undocumented infections which are driving the spread of the outbreak," said co-author Jeffrey Shaman of Columbia University Mailman School, according to GeekWire.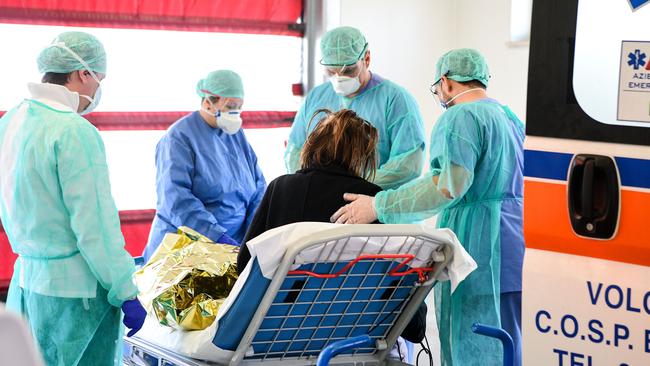 Using computer modeling, researchers tracked infections before and after the Chinese city of Wuhan's travel ban.
The findings indicated that these undocumented infections with no or mild symptoms — known as "stealth" cases — were behind two-thirds of the reported patients.
"The majority of these infections are mild, with few symptoms at all," Shaman said, Mercury News reported. "People may not recognise it. Or they think they have a cold."
These "stealth" cases were then able to transmit the bug that could cause severe symptoms in other people, according to the researchers.
"It will continue to present a major challenge to the containment of this outbreak going forward," Shaman said, adding that it underscores the importance of restrictions on movement in hard-hit regions.
Iran issued its most dire warning yet Tuesday about the outbreak of the new coronavirus ravaging the country, suggesting "millions" could die in the Islamic Republic if the public keeps travelling and ignoring health guidance.
A state television journalist who also is a medical doctor delivered the warning only hours after hard-line Shiite faithful the previous night pushed their way into the courtyards of two major shrines that had just been closed over fears of the virus.
Meanwhile, Iran's supreme leader issued a religious ruling prohibiting "unnecessary" travel in the country.
Roughly nine out of 10 of the over 18,000 cases of the new virus confirmed across the Middle East come from Iran, where authorities denied for days the risk the outbreak posed.
Officials have now implemented new checks for people trying to leave major cities ahead of Nowruz, the Persian New Year, on Friday, but have hesitated to quarantine the areas.
That's even as the death toll in Iran saw another 13 percent increase Tuesday. Health Ministry spokesman Kianoush Jahanpour said the virus had killed 135 more people to raise the total to 988 amid over 16,000 cases.
– AP
Residents of the Iraqi capital rushed Tuesday to stock up on last-minute supplies ahead of the start of Baghdad's 11pm curfew.
Many people expressed concern it could be extended beyond the week's time announced by the government. Long lines formed at petrol stations and shops. Workers stood guard outside supermarkets to take the temperatures of shoppers coming in. Gloves were handed out.
The effective lockdown coincides with the annual Shiite Muslim commemoration of the death of revered Imam Mousa al-Kazim. Thousands of Iraqis typically make the journey on foot to the shrine of the imam in the Khadimiya area outside Baghdad. Pilgrims in the past few days have been stopped from carrying out the trek by security forces in connection with coronavirus fears.
Coronavirus cass have exploded by 407 to 1,950 in Britain today – the biggest single leap in patients with the killer virus in one day.
It comes after Prime Minister Boris Johnson warned the nation to hunker down as the virus wreaks havoc around the world.
Buckingham Palace says the Queen will be moving to Windsor Castle temporarily and several events including garden parties will be postponed.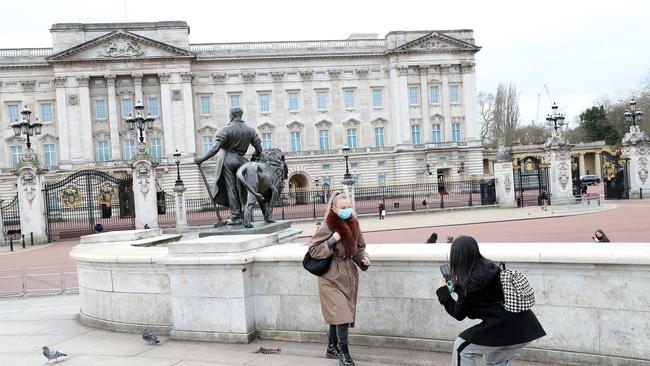 According to the statement released today, Queen Elizabeth will go to Windsor Castle for the Easter period on Thursday — a week earlier than initially planned and return after Easter.
The changes to her schedule have been made "as a sensible precaution and for practical reasons in the current circumstances", the palace said.
Several events "with large numbers of people due to have been attended by The Queen, and other Members of the Royal Family" have been cancelled or postponed, according to the statement.
"The annual Maundy Service at St George's Chapel on 9th April will not go ahead," it read.
"Three Garden Parties hosted by The Queen, due to be held at Buckingham Palace in May, will now not take place.
"Guests already invited to these Garden Parties will be asked to attend in 2021.
"Two additional Garden Parties given for the Not Forgotten Association and the National Trust will also not take place. Investitures will be rearranged to later dates."
The US is facing the prospect of going into complete lockdown where residents can only leave their homes for food, medicine and exercise, according to New York's mayor.
In an interview on Tuesday morning local time, Bill de Blasio told CNN he may soon issue a shelter-in-place edict for New Yorkers, similar to the one in San Francisco.
The San Francisco order prevents people from leaving their homes except for necessities over the next three weeks.
"We're absolutely considering that," he told the network.
"We're going to look at all other options, but it could get to that for sure for the whole country.
The move would mark a major escalation of the Big Apple's coronavirus containment plan, which last night saw the city's restaurants, bars, cafes, clubs, theatres and schools closed down until at least April.
Mr De Blasio also said he expects the city's bars and restaurants to be closed "for months" except for takeout and deliveries. He put the timeline through to June or "longer." So far, 1,374 positive cases have been confirmed in New York state, and 12 deaths.
"We need to have in our minds that this could be a crisis of at a minimum several months," Mr De Blasio said.
Nearly seven million people living in a wide swath of Northern California, including Silicon Valley, are currently under the "shelter in place order."
Along with San Francisco, residents in San Mateo, Santa Clara, Marin, Alameda, and Contra Costa counties, along with the City of Berkeley are being required to stay home, per an order from Health Officers of those jurisdictions.
Iran has temporarily sent home 85,000 prisoners to curb the spread of the coronavirus, judiciary spokesman Gholamhossein Esmaili said according to semi-official Tasnim news agency on Tuesday.
Around 50 percent of those released are "security-related" prisoners, he added.